A smartphone that is in no way inferior to competitors.
In March, Xiaomi held a European presentation of two flagships: Mi 10 and Mi 10 Pro. And that event really surprised everyone: the company's smartphones were not so expensive yet. The younger version costs 799 €. This price was already amazing. But this is only a younger version. For the older one, they asked for 999 €.
Xiaomi Mi 10 review: Design
I start with the box since it is with it that a person's idea of ​​the device begins.
For several years now, Xiaomi has been putting its flagships in a silver box. Embossed on it are the embossed number 10 and the company logo:
In the box you will find the smartphone itself, a transparent plastic case with relatively soft sides to make it easier to remove and put on, an adapter for a 3.5 mm "jack" for headphones, a cable, and a 30 W power supply:
The smartphone, as is customary now, is glass. The side edges are rounded – someone will like this option, but not me: I constantly have random clicks. For example, holding my smartphone in my left hand, I somehow opened private messages on Twitter. I do not understand. At the same time, the smartphone itself is not very comfortable to dig into the hand.
While writing this text, in the settings, I found the item "Ignore accidental touches nearby at the edges of the screen." I didn't really have time to try it, but it seems that there are fewer accidental clicks. Isn't that a miracle?
The camera unit is located at the back. Oh, my God! It is not in a rectangle/square. A neat oval with one additional module. So much better than a series of unsuccessful attempts to do "like an iPhone." We saw a similar design on the Mi Note 10. And that's great.
On the front, this is a nice looking typical smartphone of 2020: there is a hole for the front camera, and a large 6.67-inch Super AMOLED display with a maximum brightness of 1120 nits. It is capable of 90Hz and is also HDR10 + certified. On a bright sunny day, I didn't have any problems with brightness – it was enough. But personally, I would like to adjust the auto-brightness faster: at certain moments, I myself brought the slider to the level I needed.
I will say right away: I like the front camera's location on the side more than in the centre. Thus, the camera draws less attention to itself.
The optical fingerprint scanner built into the screen is high-speed. It is pleasant and convenient to use. It works well. And, most importantly, you ignore his work.
From a user point of view, the design and equipment of the Xiaomi Mi 10 are on par with its Android competitors, which cost the same or more.
The vibration motor is especially worth noting in Mi 10. It's not as good as Pixel, but very, very good. I really enjoyed it.
Mi 10 also finally got stereo speakers. I watched the video and was happy! They are loud. I did not hear any problems with the sound.
Yes, there is not enough bass, and at maximum volume, the sound can be slightly overloaded, but this is a smartphone. Its speakers are limited by the physical size of a small device.
Xiaomi Mi 10 review: Gaming
You may have noticed that all smartphones with the flagship Snapdragon 865 processor have become very expensive. They say that the reason is Qualcomm's refusal to sell this processor without the Snapdragon X55, a modem that works in 5G networks.
Because of this, you will not find an Android smartphone on SD865 without 5G support, although this is completely irrelevant for most countries. Here the fifth-generation networks will begin to appear only in 2025 when most users will change one or two smartphones.
A similar problem was on Redmi Note 9 Pro, but with updates, it was quickly resolved. So I'm sure Xiaomi will do it right.
In some European countries you can buy the 8/128 GB version). RAM type LPDDR5, built-in memory – UFS 3.0. Thanks to all these innovations, the phone works very quickly, and the reaction to my actions looks lightning fast. But there is no microSD slot. At the same time, only one SIM card fits into the smartphone.
The smartphone received a powerful battery with a relative capacity of 4780 mAh. In general, everything is fine with power: the kit comes with a 30 W adapter, there is support for 30 W wireless charging, and 5 W reversible charging. These indicators are much steeper than many competitors.
The story with power consumption is this: the user can choose the refresh rate of the image. This is either 60 or 90 Hz. In the latter case, the screen consumes a lot of power, so a 4780 mAh battery should be enough for you all day. And if you install an outdated 60 Hz, then the charge will last longer.
Xiaomi Mi 10 review: Camera
The smartphone has five cameras:
The main wide-angle camera has a 108MP Samsung ISOCELL Bright HMX sensor. It takes pictures with a resolution of 5792 × 4344 pixels in normal mode, that is, 25 megapixels. There are good optics with aperture f / 1.69. The equivalent focal length is 25mm;
13 megapixel ultra-wide with f / 2.4 aperture. Viewing angle – 123 °;
The front camera takes pictures with a resolution of 20 megapixels.
There are also two additional modules on the rear panel. One is responsible for blurring the background more clearly when shooting portraits, and the other is responsible for shooting macro. The main indicators for both cameras are identical: 2 megapixels and f / 2.4 aperture.
The photos taken with the Xiaomi Mi 10 weigh too much so that you can check the originals on Google Drive.
Day
First, let's look at the simplest conditions – how the camera shoots on a clear day when there are many suns outside. This picture was taken with the main wide-angle camera: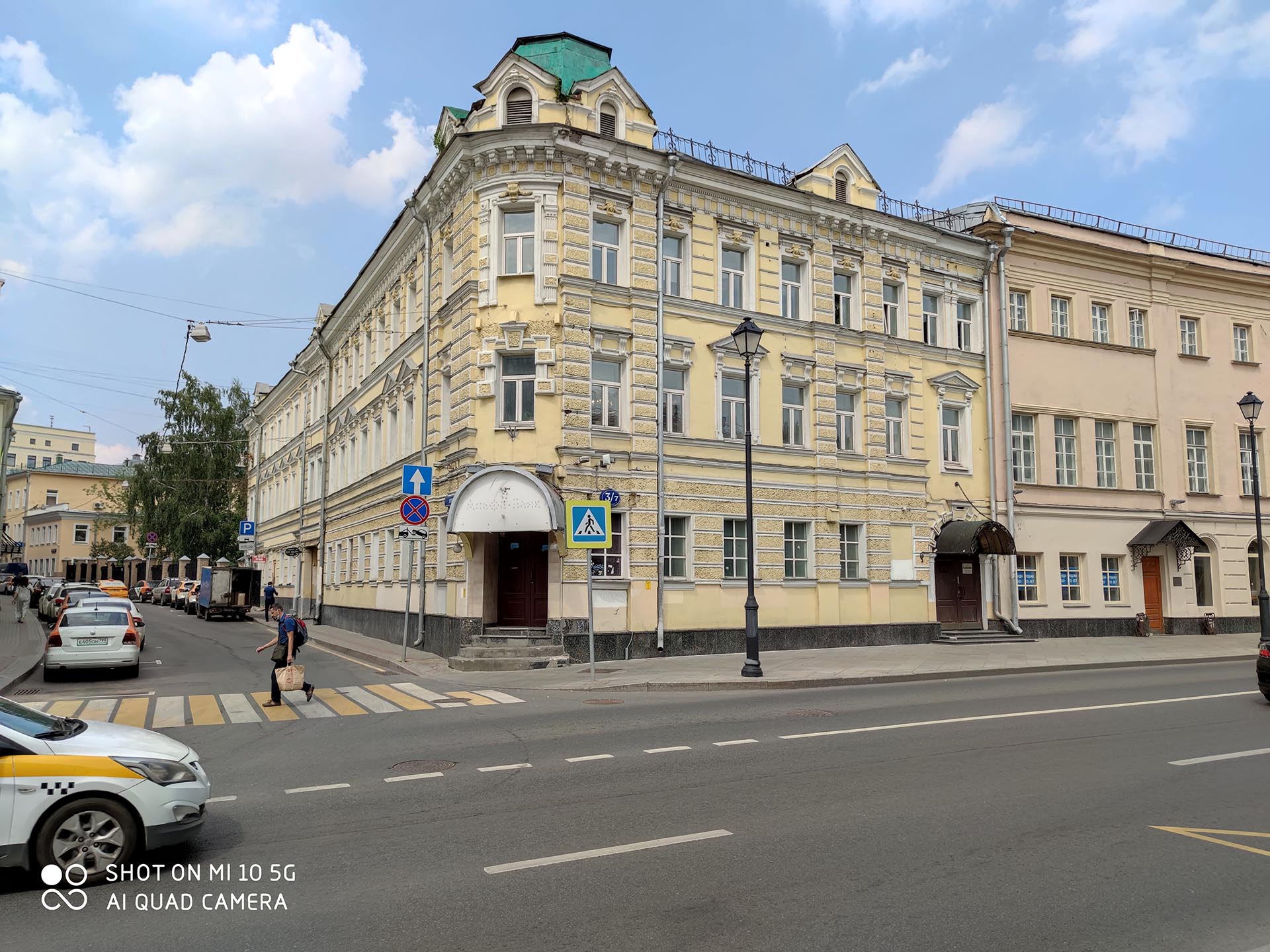 Natural colour rendering. It is especially pleasing that black has gradation and does not go into an incomprehensible dark spot – the boundaries of objects are clearly distinguishable. Crop up to 100%:
There is a slight "ringing" on the boundaries of objects, but for mobile photography, this is, in principle, normal. Objects do not merge into one mess—a very decent result for a photo taken with a smartphone.
For fun, I took a 108-megapixel shot. Crop immediately:
If the address is not clearly visible on a 25-megapixel image, then there is much more information. The white numbers on the tablet got blue in the centre.
And here is an example of a photo taken with an ultra-wide-angle camera: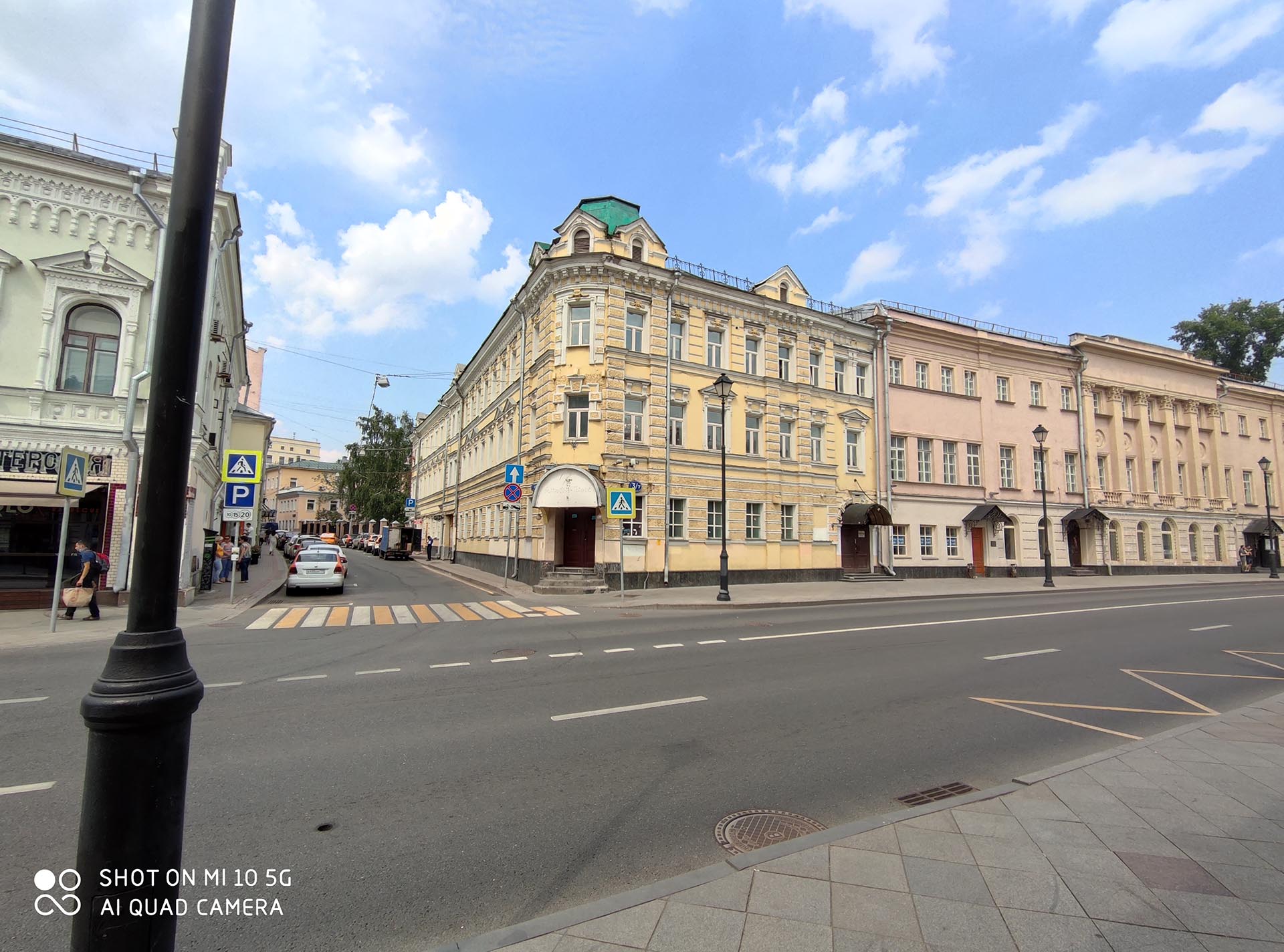 The picture was taken from the same angle as the previous frames. The photo has become slightly reddish in contrast to the original photo.
Crop up to 100%:
And here the problems with the optics are already visible: the picture seems to be out of focus, but due to the uniformity of the blur, it can be assumed that these are problems directly in the optics.
We can tell right away that the front camera worked perfectly in these conditions: yes, the bright sun came out with light, but the rest of the picture turned out great – my face is not black at all, as it would be without HDR! And the face did not turn orange, as the iPhone loves to play around with its Smart HDR. Definitely a top result.
There is also nothing to complain about here: the face is of natural colour; the details are well preserved.
Night
Let's move on to twilight. Here are two examples. The first was done in the usual mode, and the second – in the "Night" mode: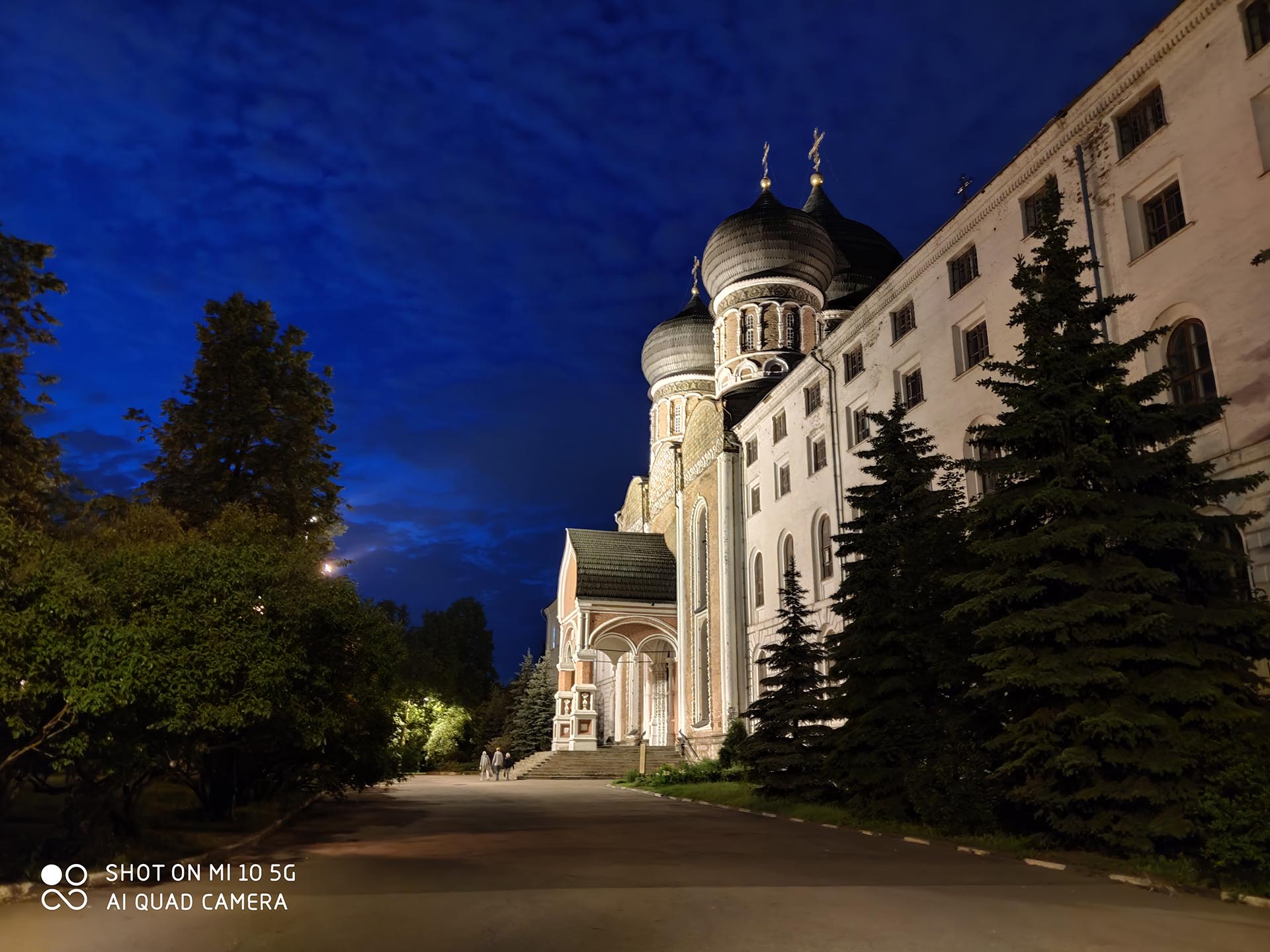 You can clearly see how the night mode saves the picture: there are no highlights from the building's backlight, the sky and trees are visible. I think the smartphone did a great job.
By the way, "night mode" is available exclusively on the main wide-angle camera.
Portrait
For shooting portraits, the main module is used, and an additional 2-megapixel camera helps blur the background.
I love this photo with flowers. But, for my taste, a bit too harsh on the beard.
The blur doesn't work very well – you can see that the ear's tip is more blurred than necessary. And the details and texture of the leather are done very well.
Macro
Honestly, I don't understand why a macro camera is needed, moreover, with a resolution of 2 megapixels.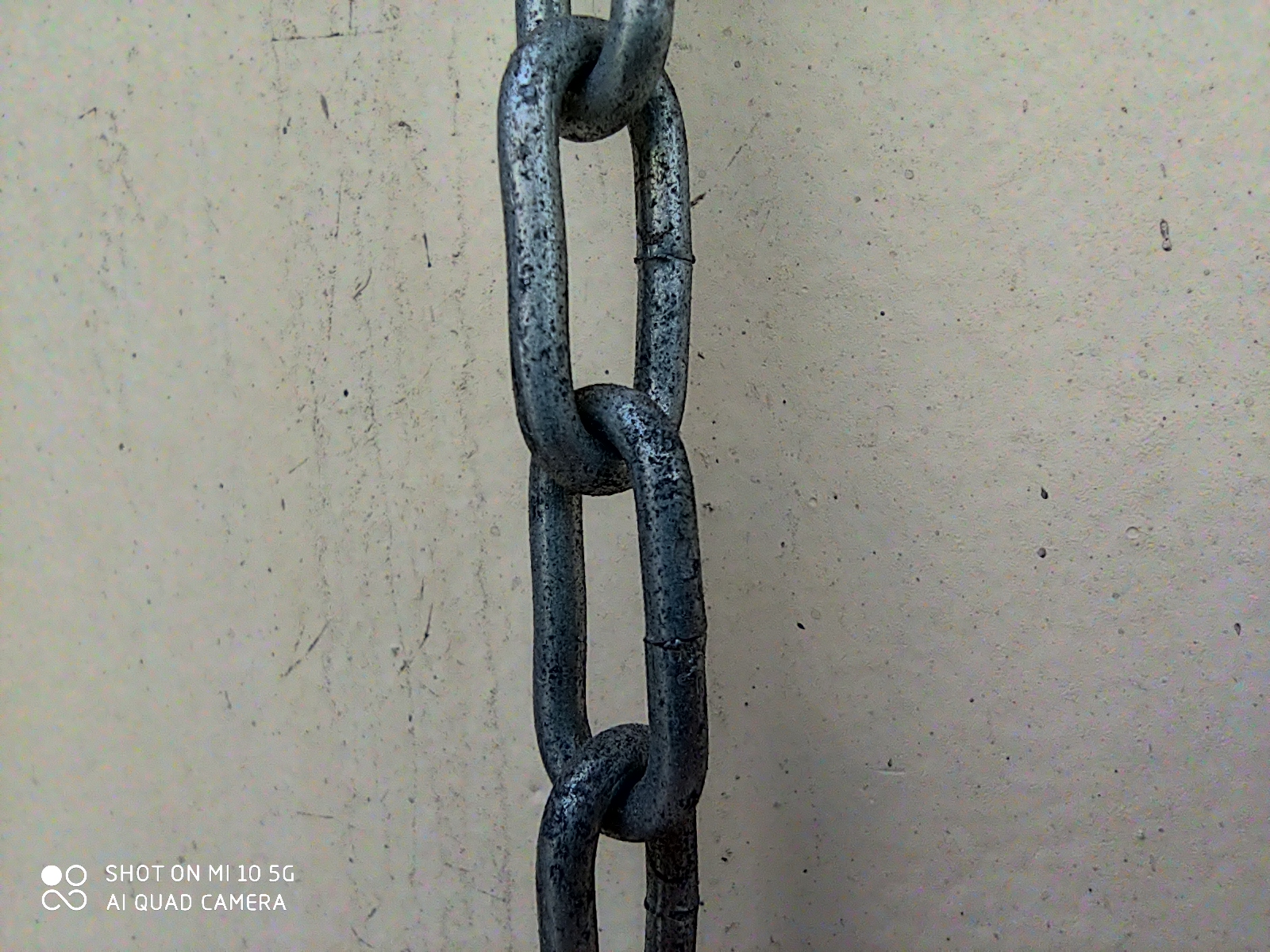 Xiaomi Mi 10 review: MIUI
You may disagree, but I will say it anyway: MIUI is one of the best Android operating systems. This is an opinion based on the experience of using many smartphones that have passed through my hands. I don't really understand the adherents of "naked Android" – yes, it is a good and clean system, but there are no many useful features.
For example, we all know that Android is crap. And MIUI is constantly struggling with this, periodically prompting the user to clean up.
On "bare" Android, this will not work if you do not install third-party software, not the fact that it will work.
MIUI has many options for setting the Always-On Display mode. For example, I chose the minimalistic one:
I like the standard icons. They look great, attract attention, but it is not excessive. I believe Xiaomi GUI designers deservedly get their money.
MIUI has a simple settings menu, very nice notes, a very cool weather app based on AccuWeather data:
MIUI is a pleasure to use. It gets better and more pleasant every year. It should be added that Xiaomi works great with updates: they come out regularly and over time. For example, my old Xiaomi has been receiving updates for over three years.
Advertising
You can remind me that MIUI has ads. But, firstly, now it can be easily disabled on all devices. Secondly, it is not available on Xiaomi Mi 10. At least for a week and a half of use, I have never had any suggestions. Did Xiaomi realize that if a customer pays a lot of money, he doesn't want to see ads? The idea seems to be obvious. And it's good that it has become one for everyone.
Xiaomi Mi 10 review: Competitors
Xiaomi with the Mi 10 has entered territory where there are not many players, but most of them are pretty darn strong. For example, Samsung, you can find several options at once.
No more cheap Xiaomi flagships? Understanding the situation
It's no secret that most of the company's sales will come from the Redmi division, which is still cheap. Flagship models are needed, rather, to illustrate the fact that Xiaomi can make smartphones, the cost of which reaches such high numbers. Indeed it can: Mi 10 is a great smartphone. He quite easily gets up one step along with competitors.
What do you think of the Mi 10?