Competitor JBL Link Portable – with a price of $59.99, excellent sound, comparable capabilities!
Sony SRS-XB23 EXTRA BASS Wireless Portable Speaker IP67 Waterproof BLUETOOTH and Built-In Mic for Phone Calls, Black (SRSXB23/B) Black XB23
Recently I talked about the Bose Portable Home Speaker – we still have a month of summer, I hope September and October will also be warm, so there will be a place for portable acoustics in the country or at a picnic.
You can also read Sonos Arc Soundbar & Sonos Move: Review.
Sony SRS-XB23 Review: Design & Construction
Great design, I really like the existing Sony design code – nothing superfluous, nice materials, minimalism, thoughtful arrangement of all elements.
In the case of this system, there is one more feature: the built-in lanyard for carrying. You can hang it on a bicycle, attach it somewhere in the summer kitchen, to a tent, to a backpack. And, of course, it's just convenient to pick up the column.
And the shape of the case is such that the XB23 can easily fit into a glass holder or any other recess. See how it can be: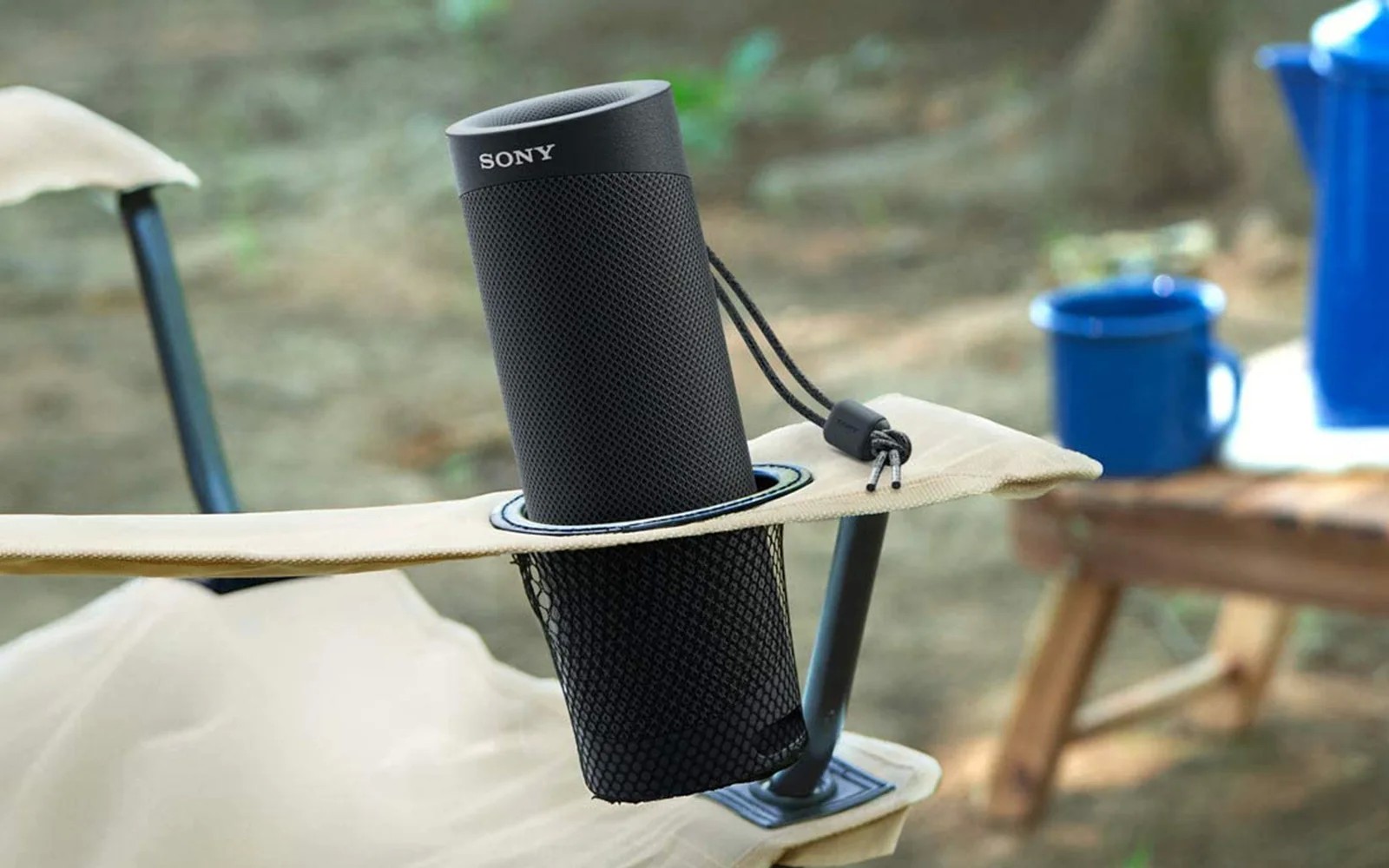 The colour of the lace matches the colour of the speaker system. There are several options available. All colours are cool: in addition to the practical black, there are interesting green, blue, orange.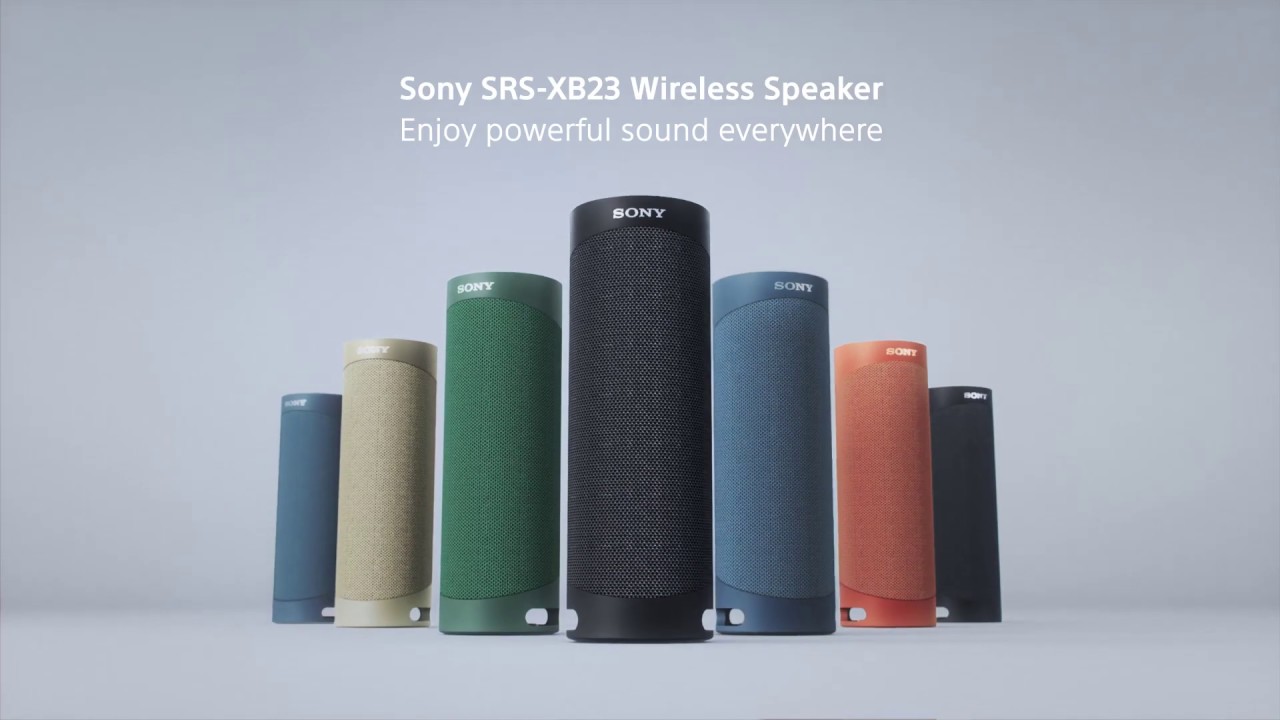 Another important feature is protection according to the IP67 standard; that is, the column can be immersed in water without much harm. Of course, you need to close the plug, the reservoir should be fresh water, and it would be better not to do this at all. Remember: technology doesn't like water!
All control buttons are collected in an elegant rubberized block. Here you can control playback and answer a call (yes, there is a built-in microphone, and a good one), and buttons for activating stereo pair modes – when two speakers work as one – and Party Connect. Up to one hundred Sony speakers supporting this function can be networked. At the moment, there are at least three devices: SRS-XB43, SRS-XB33 and SRS-XB23.
You can also read: Home testing of Samsung HW-Q70T Soundbar (Complete Review)
Under the rubberized block is a USB Type-C connector for charging, I use a MacBook power supply. The claimed battery life is about 12 hours, but everything depends very much on the volume. Complete with the speaker only USB Type-C cable, no power supply.
Most of the case is covered with a cloth, top and bottom are plastic parts a little about the materials. Bass reflexes are hidden in the recesses. Installation on its side is possible. The column does not roll anywhere in a certain position. But the main position is an installation on the lower part, where slots are made for the correct distribution of the sound wave.
It may seem that the speaker is small, lightweight, you can carry it almost in your pocket. Don't be fooled; it weighs 580 grams and takes up a lot of space in a small backpack. But there is no fear of damaging or scratching something. This has its own charm – the XB23 will look great in a barn next to tools, in a garage among oil and spare parts and other male places. The thing is stylish, but it is also perfect and reasonable to take it for fishing.
You can also read Marshall Emberton speaker review.
And on this, perhaps, I will finish about the appearance. If you add Kvadrat fabric and velvety plastic here, you will get "a stylish thing for minimalistic interiors". But Sony decided otherwise and turned out to be a practical gizmo for daily use in various conditions.
Sony SRS-XB23 Review: Application
The program is called Sony Music Center, the same as for the XB-43. On the fly, it is proposed to install a system software update. The process took me about twenty minutes – I recommend connecting the column to a power source. First of all, I advise you to go into the settings and check if you have STAMINA mode turned on, it is good for power consumption, but not very good for sound quality. For some reason, the low frequencies are cut off, well, you know, you want to get BASS from such a speaker.
You can also read JBL Link Portable Review: Comfort In The Details.
You can also play with the equalizer in the settings, quickly go to different music services, and connect another speaker. The program is simple. It works well. I didn't have any questions. You will most likely install it, update the software, and forget for at least another six months.
Sony SRS-XB23 EXTRA BASS Wireless Portable Speaker IP67 Waterproof BLUETOOTH and Built-In Mic for Phone Calls, Black (SRSXB23/B) Black XB23
Sony SRS-XB23 Review: Music
Specially designed drivers are installed in the case, there are two passive radiators on the sides, with their help the feeling of POWER is created. A couple of things are curious: the driver is called the X-Balanced Speaker Unit, in most portable speakers the speakers are round, but here they are almost rectangular. Sony says that this way, you can increase the cone area and, accordingly, improve the transmission of low frequencies and reduce vibration. For portable systems, this is truly a godsend.
You can also read the Bose Portable Home Speaker Review.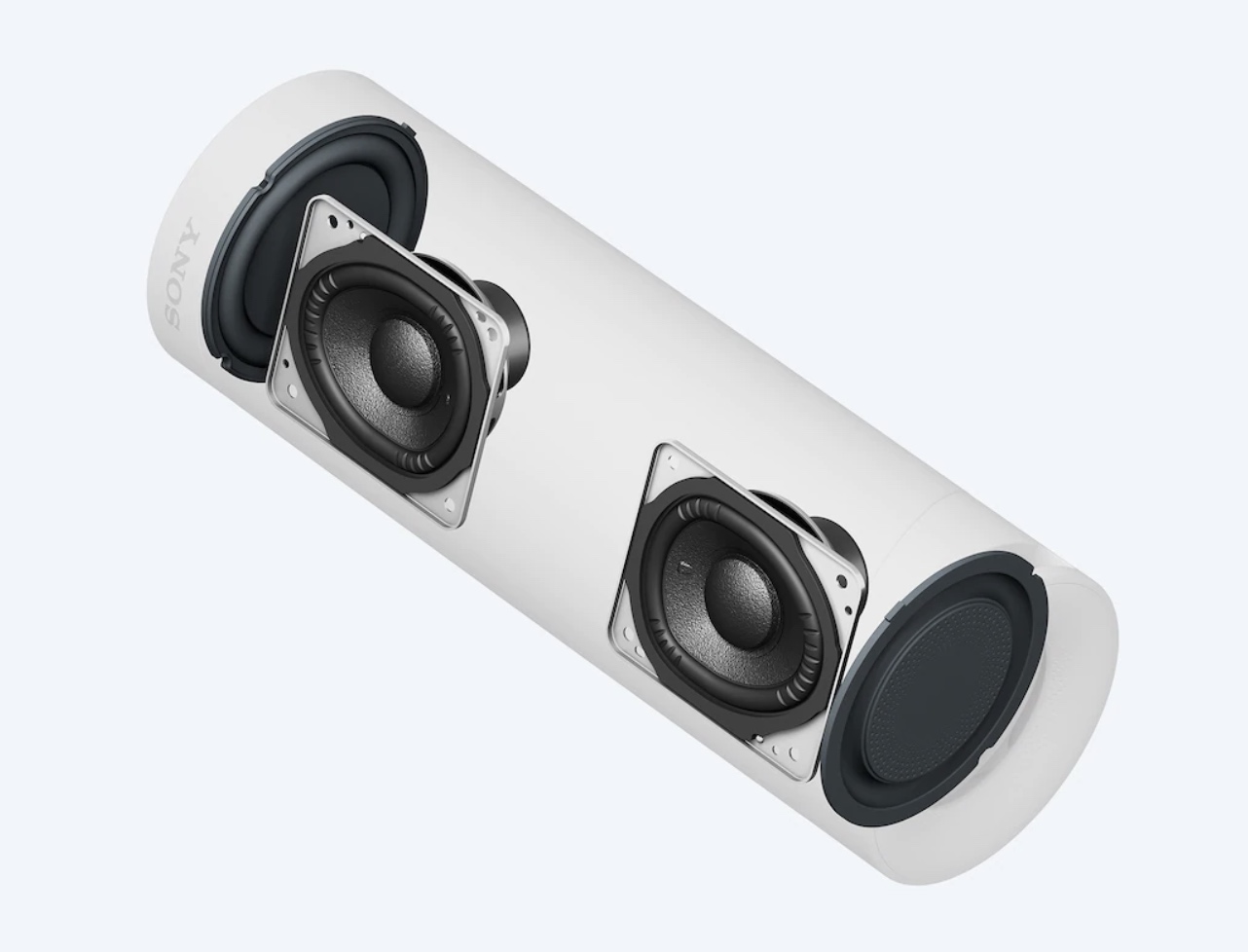 I listened to different music, mainly tested the XB-23 paired with the iPhone 11 Pro Max and various music services: Spotify, Apple Music, Mixcloud. The system supports several Bluetooth codecs: SBC, AAC, LDAC – that is, both iOS and Android device owners will be happy. You can experiment with different types of files. It makes sense to include FLAC. Bluetooth 5.0 profile.
What do I recommend to include? I really liked the performance of the album Te Cause of Doubt & a Reason to Have Faith. This is LA Salami – excellent music for gatherings in the open air, even with Bass Boost turned on, low frequencies do not prevail over melody and vocals. I highly recommend it.
The second number I would recommend is the new Romare album – Home. Before, I didn't really like those who ride a bike with the speaker on, but then I threw the XB-23 into my backpack, turned it on, and drove it from Michurinsky to Gorky Park – I had a great ride, I must say! It's a pity there is no bottle holder – my colleagues convinced me to remove everything unnecessary from the bike.
Well, the third candidate for testing the capabilities of Sony SRS-XB23: KAYTRANADA – Look Easy. An excellent single, rather include it in your playlists, the column is not lost here, showing both vocals and effects, and, most importantly, gives us positive vibrations.
In retail, the Sony SRS-XB23 costs $59.99– I liked the system's design, protection from water, everything is fine with the time of operation, control, and application. There are no questions about the sound either. If we talk about competitors, then, of course, this is the latest generation JBL Charge – on the JBL site, marketing support from all tools, recognizable design, it sounds good, the functionality is generally similar. I would suggest listening to both columns and choosing your own, but I know that very few people will actually do this. But if Sony is closer to you – feel free to buy, it turned out to be a good thing.
PS Sony says that the device is not afraid of saltwater – I do not recommend checking it! Any technique does not like water, especially salty water. Splashing is one thing, dipping is another.
Sony SRS-XB23 EXTRA BASS Wireless Portable Speaker IP67 Waterproof BLUETOOTH and Built-In Mic for Phone Calls, Black (SRSXB23/B) Black XB23