Simply sophisticated headphones for thoughtful listening to music.
For AKG K361-BT, the company came up with a difficult positioning. Thanks to this, the headphones stood on my shelf for a long time – I don't seem to be a professional, but I listen to music often, for a long time. All press releases and materials indicate almost the studio purpose of the K361 model … Curiosity has finally won out! And I was very impressed by the work done at AKG – these headphones look simple but give a lot of positive emotions.
AKG K361-BT Review: Design & Construction
I roughly understand why few people pay attention to this store model: the headphones look very simple. Here, there are no outstanding details, leather, metal, or other wonders at first glance.
The K361 works the same way. Different textures of plastic, excellent assembly, a minimum of buttons – only the switch on the left. The headband is trimmed with rubber from the inside. The earpads are trimmed with eco-leather, the channel designations areas clean and clean as possible. What is it like?
Landing surprises, first of all. The usual-looking ear pads in wearing resemble pillows, the cool material does not cause rejection – I have been sitting in the office for almost two hours, at least a hint of discomfort! They used plastic. Since the material is light, you generally forget about the headphones – the music plays as if by itself. An incredible experience!
There are buttons here, of course – the touch panel on the left is responsible for rewinding and playback control.
There is only one disappointing moment: micro-USB is used for charging. Guys at AKG, let's forget this jack as a bad dream. But the set pleases a nice cover made of fabric, an adapter for a "jack," and as many as two audio cables. One is 1.2 meters long, the other – 3 meters.
One cannot but say a few words about the positioning of the headphones. AKG says:
Whether you're a performer, sound engineer, podcaster, or beatmaker, you're always in creative mode. The AKG K361-BT Professional Studio Headphones are the perfect balance between studio-quality sound, Bluetooth support, the comfort of soft ear cushions, and an elegant, durable design that matches your dynamic lifestyle.

AKG
I would say differently: we are dealing with an amazing device – the acoustic characteristics are fascinating. You rarely find 50mm drivers and a frequency range of 15 – 28,000 Hz in Bluetooth headphones. Words about "professional studio headphones" can scare away many – but don't be scared!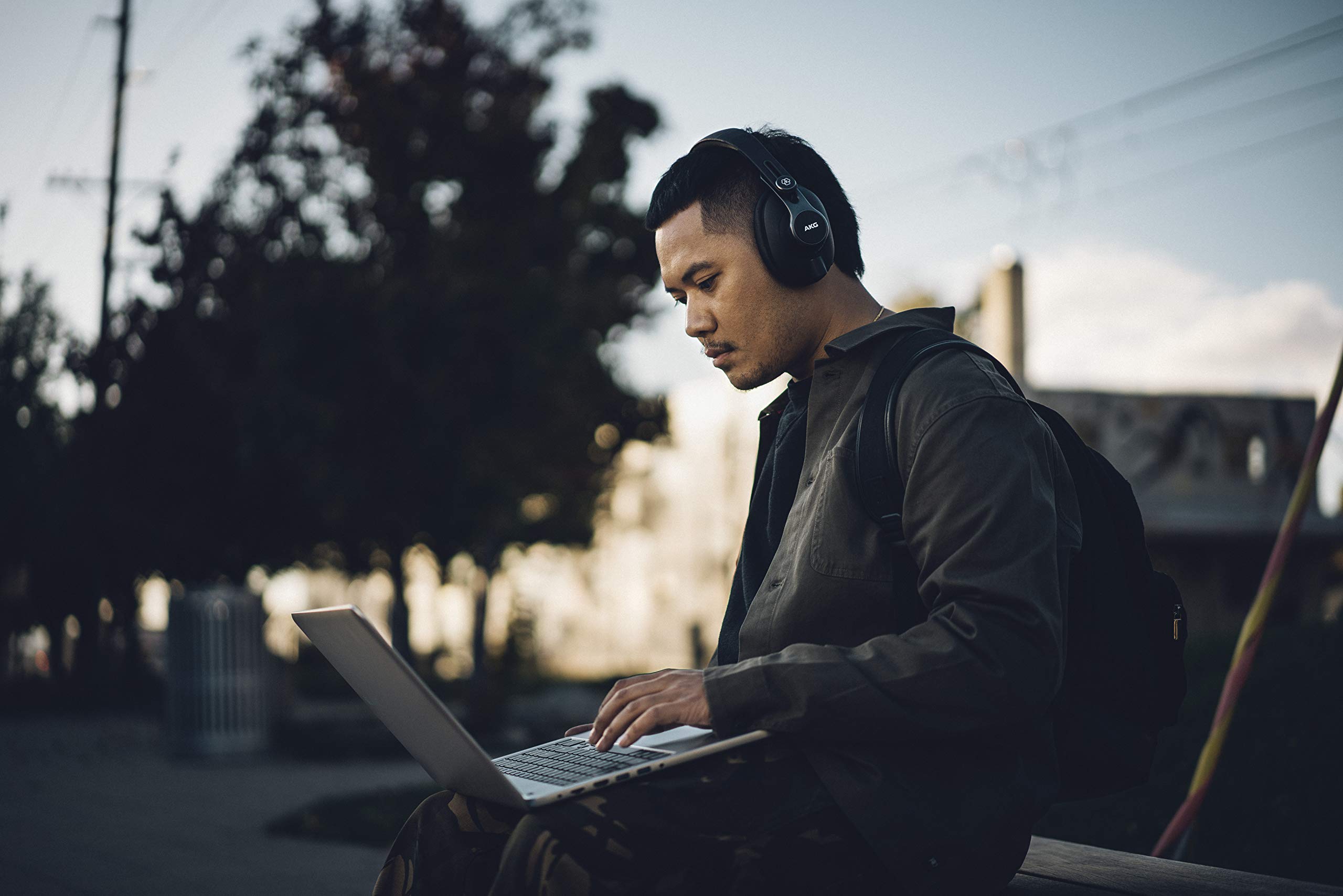 The laconic cover hides a product with an outstanding sound that can delight anyone. On the other hand, I also understand the company's marketers – after all, positioning needs to be explained somehow! The K361 has a tricky one. But, I am sure the device will become popular among interested people – it is enough to listen once, and everything will become clear.
Another noticed feature: the cups seem to close the ears tightly, but there is no vacuum. In between tracks, there is no desire to take off the headphones. Very comfortable model! By the way, the cups fold – if you mix tracks, the left or right earphone can be easily tilted to the side.
The declared operating time is about 24 hours; in reality, it all depends on the volume – in any case, this is an excellent indicator.
AKG K361-BT Review: Music
I listened to the track Quenum – Valley Of True People for a very long time. A meditative piece for a car or work, headphones pull out every detail, the beat is magical. A tremendous volume reserve, a quarter was enough for me to enjoy comfortable listening.
Enchanting voice – unfortunately, the wizard in iTunes is not very good. You better download FLAC, use the Vox player. There it is excellent, enveloping, there is a stage, volume, very good. TIDAL can also save us – keep in mind, K361 is extremely demanding on the track's quality. If the file is of good quality, enjoy it. If you have some weird recording from somewhere, you will hear flat nonsense. And it would be nice to warm up the drivers.
I listened to Ellen Allien's Auraa album with great pleasure. Oh, that's great. And I advise you – if you love electronic music and are going to buy these headphones, turn it on first. Here you can also listen to low frequencies (do not crush the middle), and the vocals are beautiful, and the priceless club feeling has not disappeared anywhere. The wizard in iTunes is excellent. You don't have to look for FLAC.
Verdict: Should you buy AKG K361-BT?
In retail, the headphones cost about $99 approx. A strict recommendation: be sure to listen to AKG K361-BT before buying! Download your favourite tracks, the stores are already open, spend half an hour, and then you will definitely understand whether they suit you or not. I really liked two things. Firstly, this is an excellent fit. After a few minutes, you forget about the headphones. The music plays as if from nowhere—secondly, the sound quality. For the price of AirPods, you get "monitors" with a detailed, cool sound. Headphones are suitable for experimenting with different players, streaming services. Try FLAC and TIDAL – it's worth it!
Overall, I'm surprised. AKG managed to make an inexpensive and interesting model in terms of sound – do not forget; there is also a wired connection. Everything is ready for this! Therefore, during the day, you can use it without wire with a smartphone, and in the evening, you can connect it to serious equipment and listen to something sincere. For example, jazz – jazz always helps the reset. I'll go and listen!