Sales of middle-class smartphones are steadily growing up: flagships are too expensive, and economy-class state employees are not fast enough. Therefore, when choosing a new phone comes up, buyers are increasingly looking towards middle school students.
Today we are testing Motorola G9 Plus. It can be called an exemplary representative of the "middle class". This smartphone has a huge screen, an impressive battery, a nice interface, and good performance.
You can also reaD: TOP 5 Foldable Smartphones of 2020
Come here big guy: Motorola G9 Plus's impressive design.
The smartphone with the Plus prefix is ​​impressive in size – it was created for those who spend all day on social networks, like to watch videos, play toys or use the phone as a navigator. In general, for those who understand that the big screen is great. For everyone else, there are smaller phones, the same Motorola G9 Play, as an example.
After unpacking the box, we meet the phone, immediately packed into a complete silicone case. It adds a few more millimetres of thickness, but the bulging sides can save the screen if it falls.
The keys' location is as follows: on the right is the volume and power button, and on the left is a separate key to launch the voice assistant. It activates Google Assistant. You cannot assign any other action to it. In my review of the Moto G9 Play, I complained that there are all the buttons in one place and you can easily make a mistake, but this will not happen here.
As for the power button, it serves a double function: it has a built-in fingerprint scanner. It works perfectly, quickly and smoothly, there is nothing more to say about it.
The smartphone's body is completely made of plastic, the material is glossy and can get dirty and covered with minor scratches if you carry the phone without a case.
Extra-large screen: Motorola G9 Plus massive screen
A display with flat edges, no curved sides – in my opinion, this practicality will be appreciated by everyone who is used to covering screens with additional protective glasses or films. By the way, there is no factory protective film here – when selling a phone in a store. You can offer the client an additional option to keep the screen intact.
The bezels around the screen are quite thin, in general, everything is pretty, except that the bottom margin is larger than the top one, but this is already a common thing for mid-range smartphones. But the camera lens is neatly inscribed in the upper left corner – no cutouts, unlike the already mentioned Motorola G9 Play.
The display has a good margin of brightness. It has a high-quality anti-glare, a pleasant oleophobic coating. By default, the colour profile with the most saturated picture is selected, but you can change it to another and choose from two additional settings if you wish.
Motorola G9 Plus: Software, hardware and sound
The hardware is fine because the Motorola G9 Plus offers an excellent Snapdragon 730G. We get a sufficient power reserve, there is no overheating in games, and the test for throttling, launched three times in a row, the phone passes with confidence.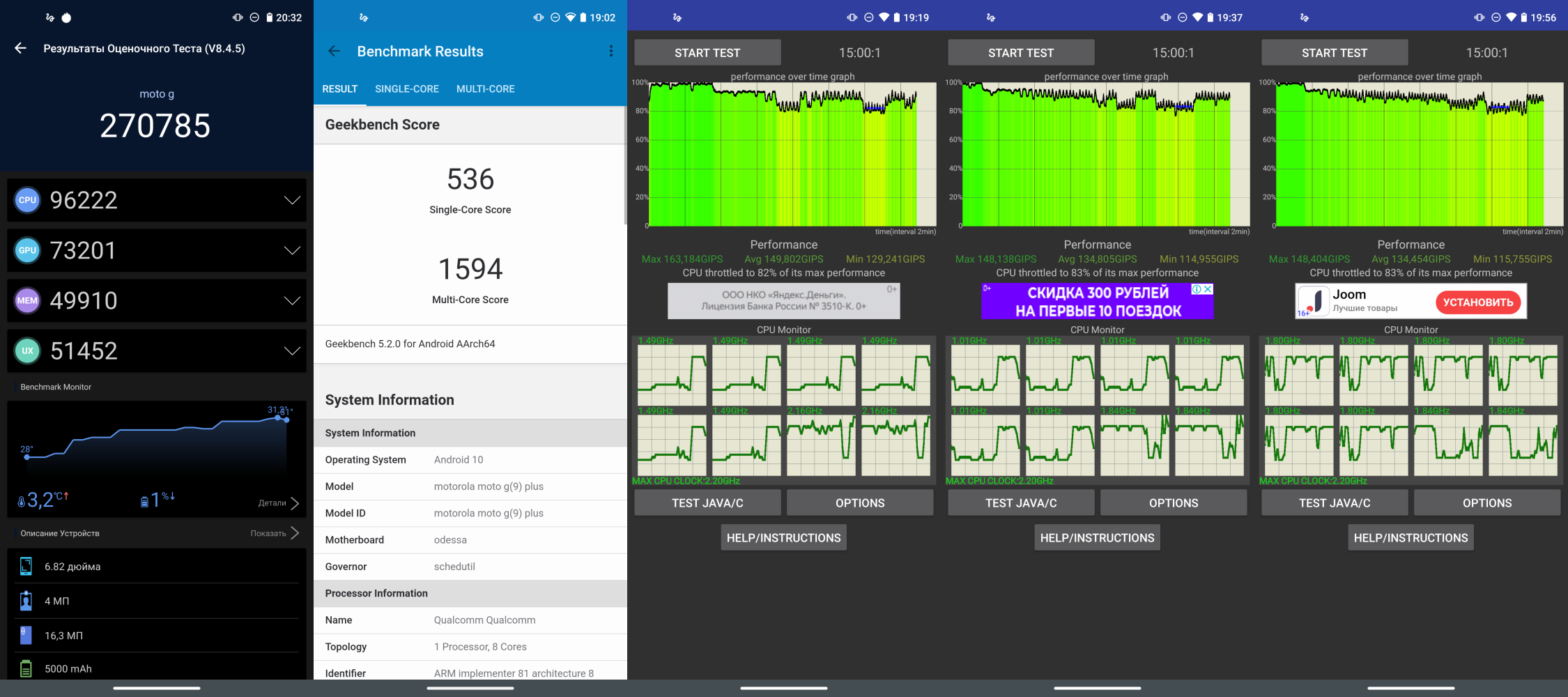 The amount of RAM is 4 GB, and the built-in memory is 128 GB. The configuration is a bit strange, there are usually 4/64, or 6/128 GB options, and here is such a peculiar solution. However, the phone works very briskly, Motorola's interface always flies, and the G9 Plus is unambiguously happy about the reaction speed.
There are no unnecessary details in the interface, as usual, we get "pure" Android, supplemented by Motorola's own chips. They are collected in one section, where you can understand what special qualities a smartphone has and how to use them in everyday life.
Of the original features, I would like to highlight the function of quick access to frequently used applications; for this, you need to touch the lock key a couple of times. It's just about touching, not about pressing. At the same time, when working in an application, it launches a context menu, for example, a copy or paste function. 
Is there an unwanted incoming call? We turn the phone face down. The call melody is muted. Or another gesture: turn the Moto G9 Plus in your hand, fire up the camera. Such useful little things are enough to get used to the phone's convenient habits and become a connoisseur of Motorola.
For some reason, there was no room for a separate tray for a memory card in a large smartphone, so you have to choose: either two SIM cards or one SIM paired with a microSD.
The only speaker is located at the bottom; it is blocked by the palm of your hand when playing games or listening to music. You can work around this problem by connecting headphones. The bundle does not include a headset, but the 3.5 mm port is retained in the phone. Therefore, if desired, connect your favourite wired headphones through the jack on the top end. By the way, in this case, it will be possible to listen to FM radio, although I'm not sure if it will be useful in the heyday of streaming audio services.
Or listen to tracks via Bluetooth, whatever you like. I used the Bose 700 in tandem with the phone, the sound is pleasant, there is a noticeable headroom in volume, and if you wish, you can add emotions using the Motorola's built-in equalizer.
Motorola G9 Plus comes with Four cameras, one main.
I live according to the principle "I feel good with one camera in my phone", but manufacturers believe that the more modules, the better. Okay, let's see what the Motorola G9 Plus is capable of, where, in addition to the main 64-megapixel cameras, there are also three auxiliary cameras: an 8-megapixel ultra-wide angle and two 2-megapixel cameras – one is responsible for assessing the depth of the frame when shooting portraits, the other is responsible for macro.
You can also read: All about the new Huawei P40, P40 Pro, and P40 Pro+
The meaning of a separate 2-megapixel macro camera is, in principle, not very clear, it is here rather "for the show" because the resolution of such images is shallow and of no quality.  Here's an example in low detail: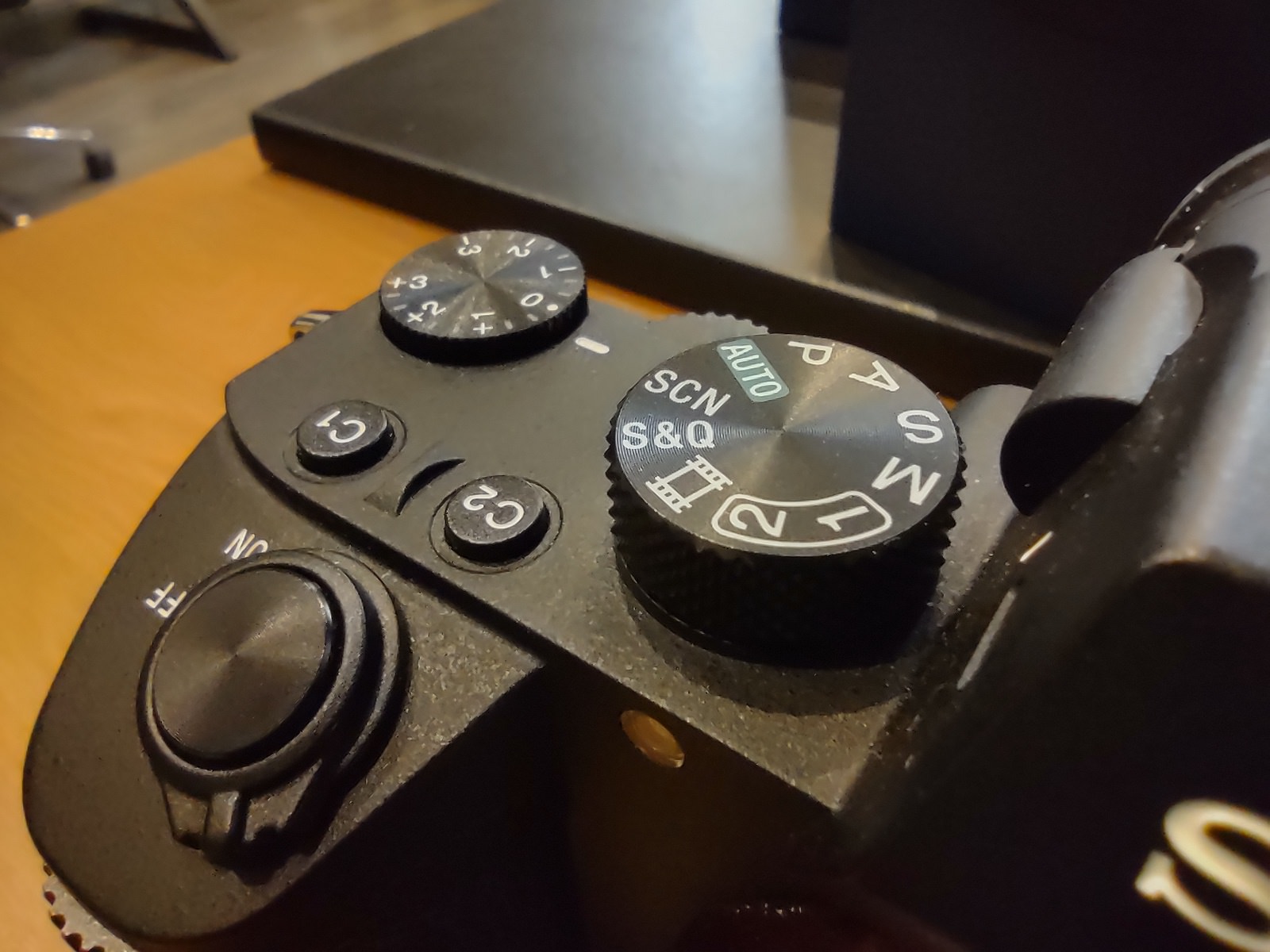 A wide-angle lens requires conditions with excellent lighting. Otherwise, one cannot count on a more or less bearable result. Although I shot in the morning and not on Moscow's gloomiest day, the photo is dark. There is no detail when the image is enlarged, plus a strong blur at the edges. Perhaps the optional night mode could have helped, but it only works for the main camera.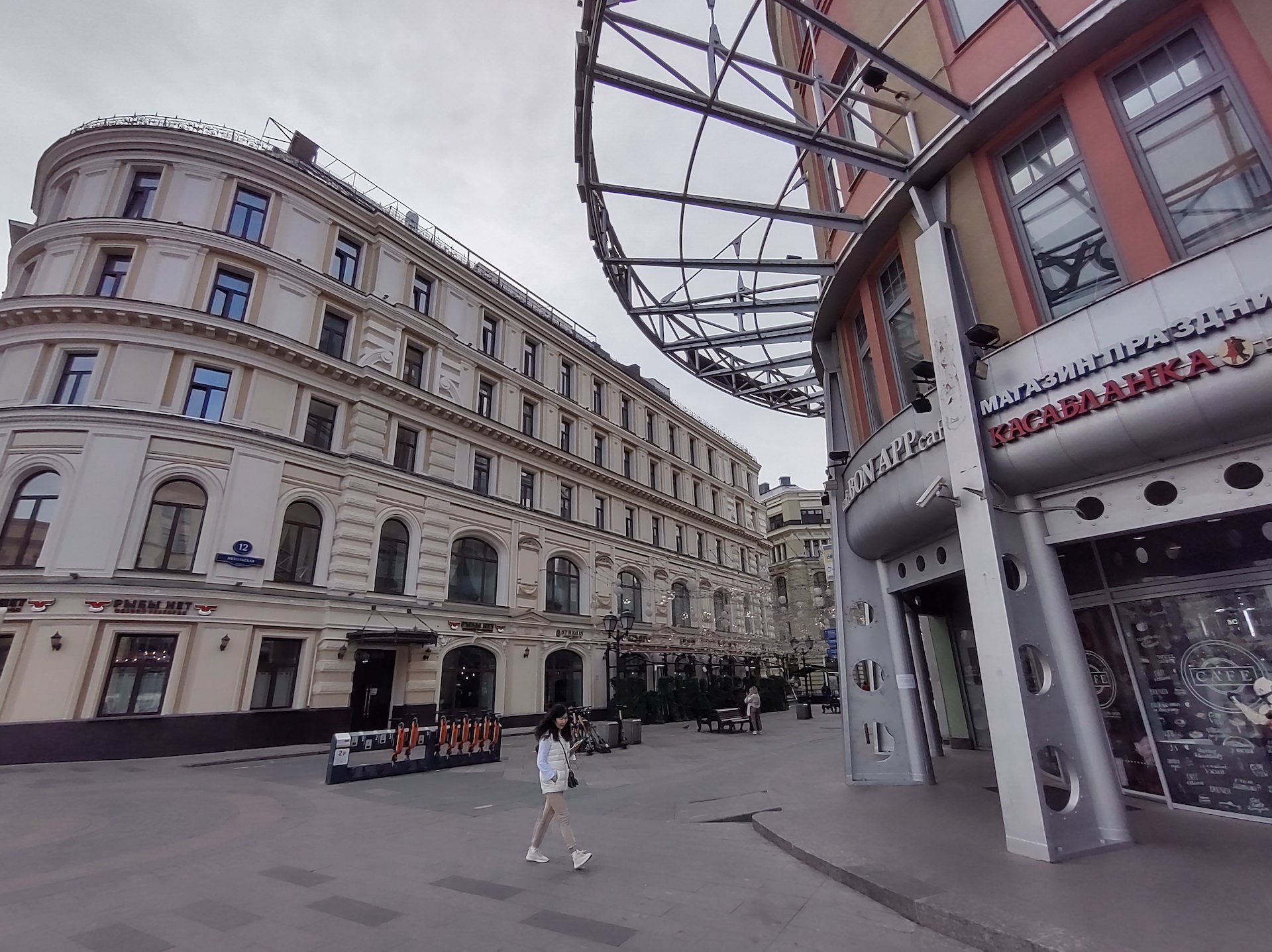 So we got to the main module. By default, the phone takes frames at 16 megapixels, combining four pixels into one, but if necessary, you can choose the option with the maximum resolution if you suddenly need it.
Let's start with night mode, where the phone takes a series of shots and combines them into one shot. In this case, it is better to shoot static objects, which can be clearly seen from the walking girl and the passing car, which turned out to be blurry. But when you enlarge the photo, you can also see the details on the building, which is very worthy for a middle-class phone: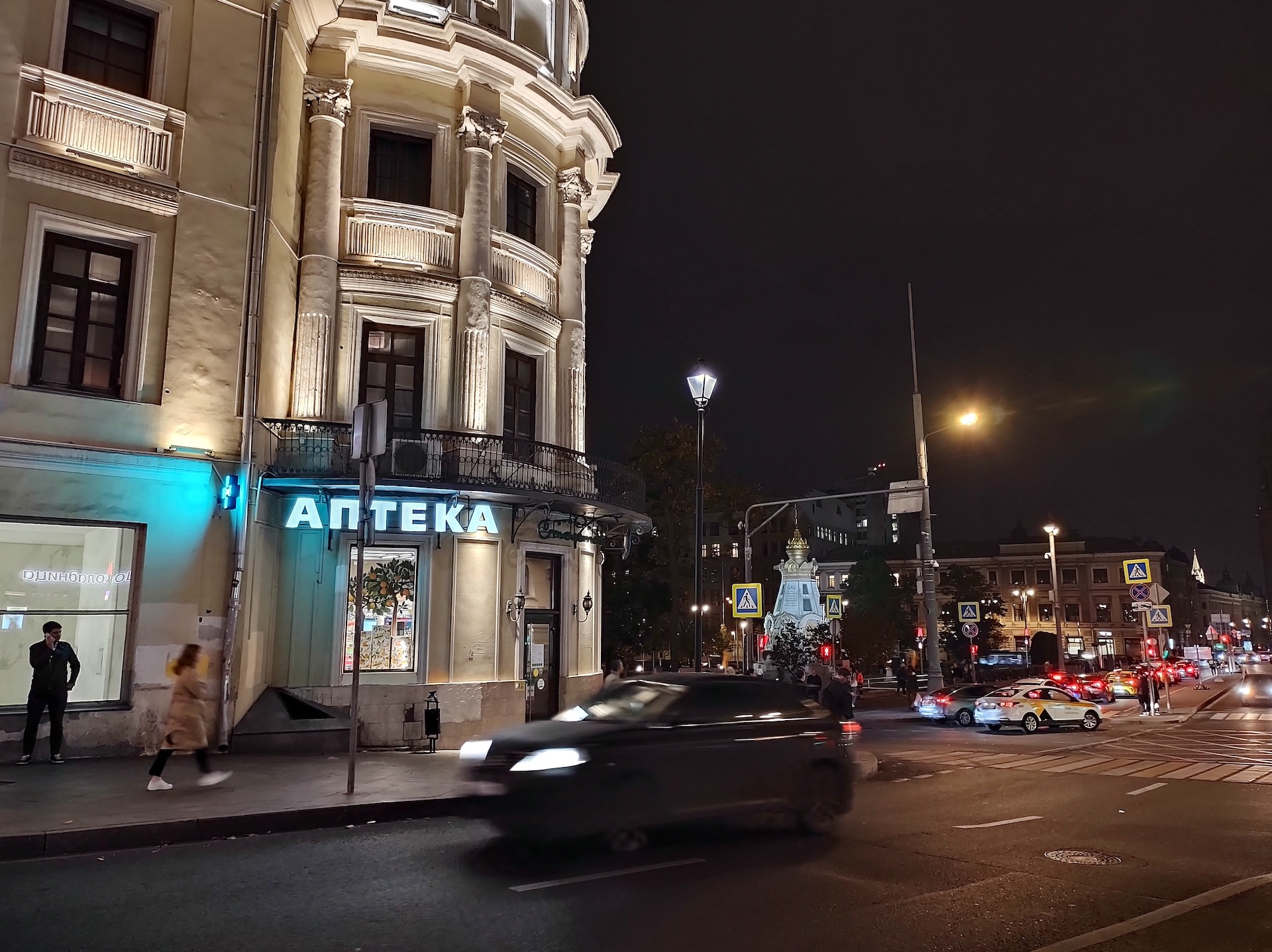 An example of portrait photography. Considering that the figurine is standing quite close to the glass, there was a possibility that the phone would make a mistake and blur the wrong thing, getting confused with the background. However, it worked out well: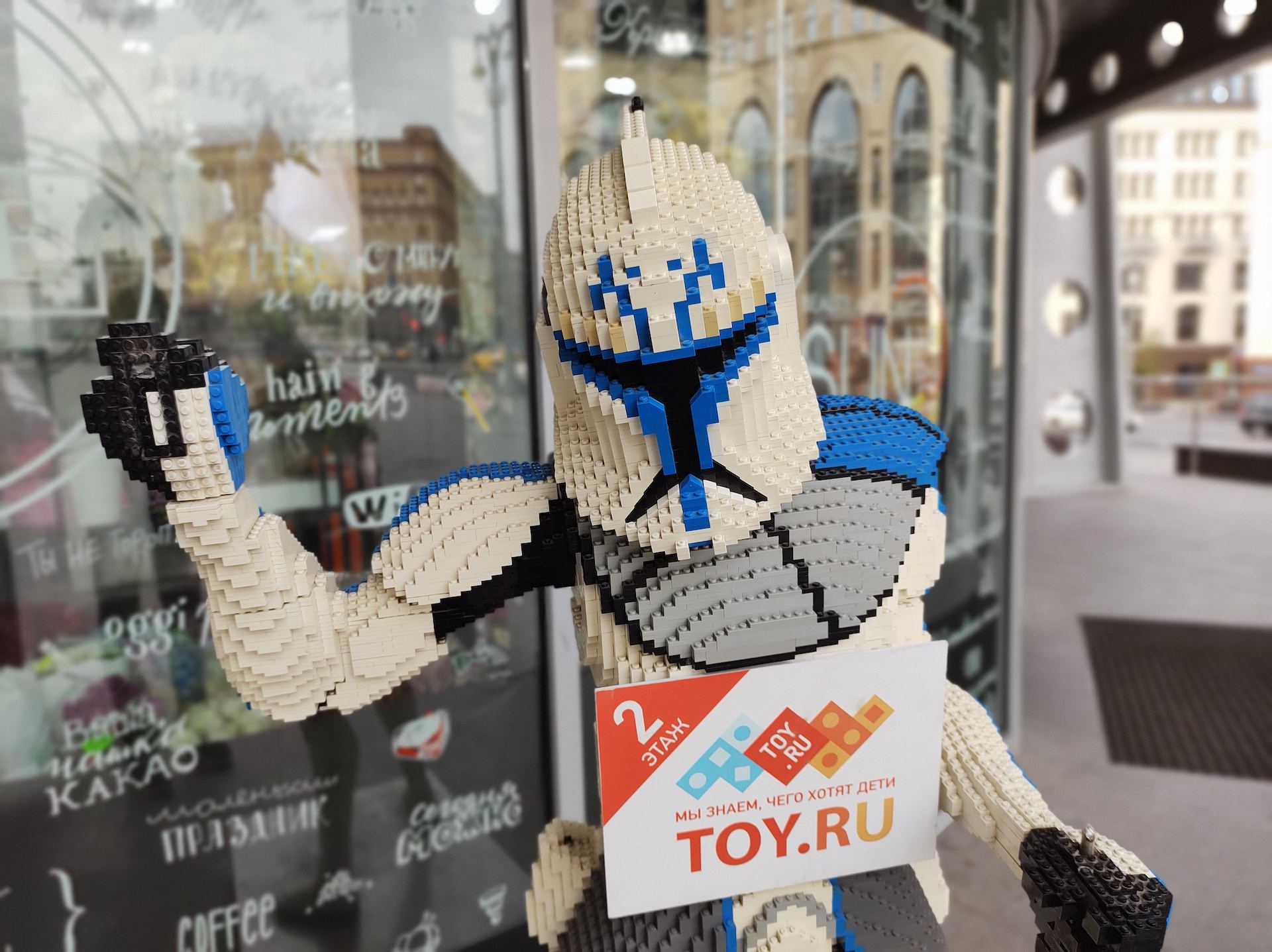 It isn't easy to indifferently walk past the Defender in such a pleasant colour:
You can see a skyscraper on Kotelnicheskaya embankment in the distance, the HDR mode helped to work out the clouds and even the sun breaking through the clouds is visible. Gloomy and grey, but well-detailed shot: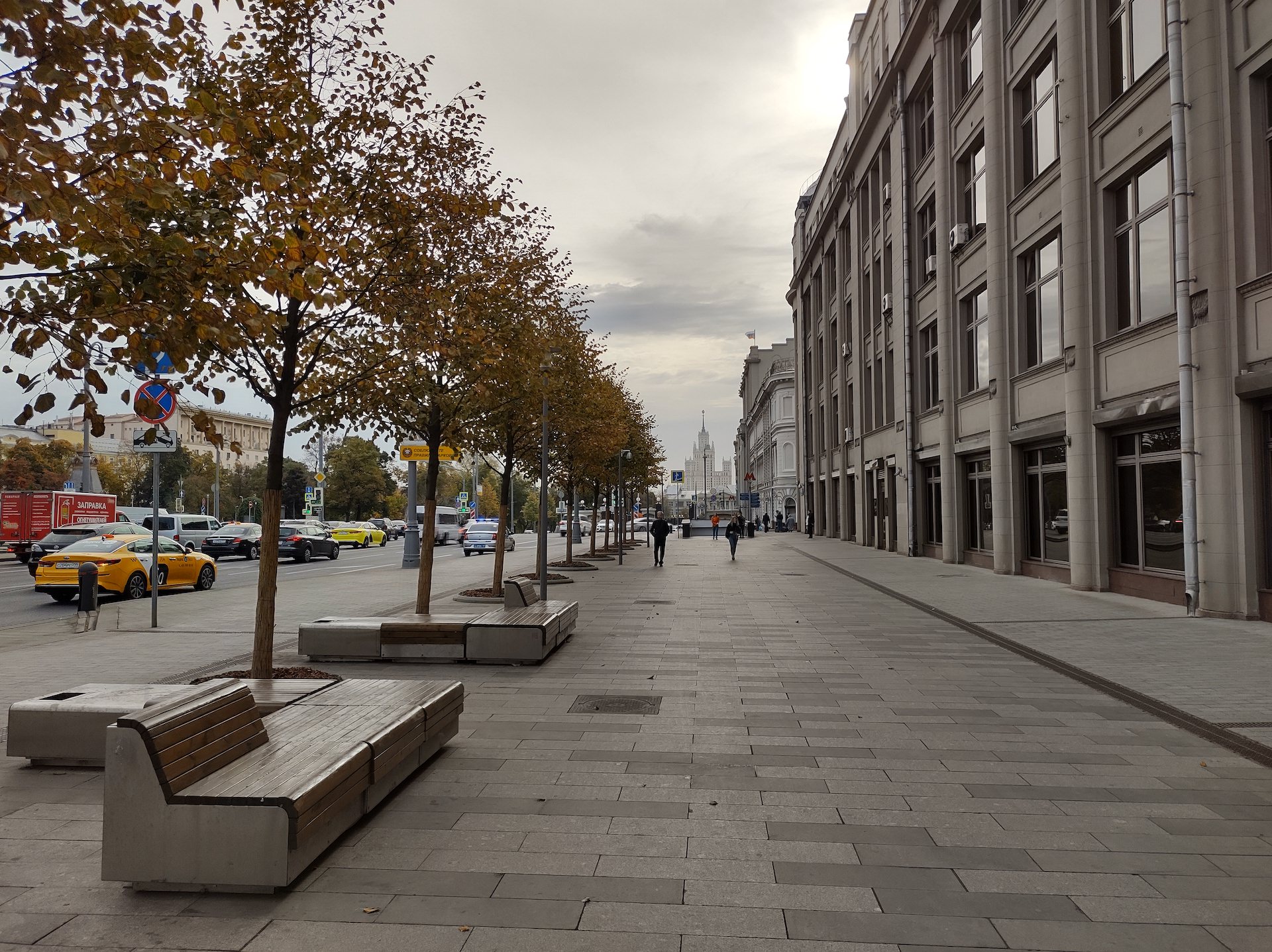 And of course, selfies – the 16MP camera takes perfect photos, accurately rendering skin tones, preserving details. The main thing is to disable the default active enhancer:
Autonomy: Motorola G9 Plus
A smartphone with a large screen to work for a long time received a battery of a solid capacity – there is 5000 mAh, plus a powerful 30 W fast charging included.
On average, you can count on one and a half to two days of work, and with an increased load, you get a day of active use. For example, if you constantly use the navigation or load your phone with games.
You can also read: Top 5 Smartphones From Aliexpress For The New Year
A matter of choice: Should you buy?
The autumn novelty Motorola G9 Plus costs $310, but if you manage to take advantage of the promotion, the phone can be purchased for a couple less.
Let's see what you can buy if your budget is limited to $300.
Xiaomi Redmi Note 9 Pro with Snapdragon 720G, 6/64 GB of memory, a 5020 mAh battery and a 6.67-inch screen fits into $270.
There is also an option without Pro – this is Redmi Note 9 with a MediaTek Helio G85 processor, 4/128 GB of memory, a 5020 mAh battery and a 6.53-inch screen, it costs $140
Realme 6S with MediaTek Helio G90T and 6/128 GB of memory, a 4300 mAh battery and a 6.5-inch screen costs $200.
Another novelty in the fall – Poco X3 with Snapdragon 732G and 6/64 GB of memory, a 5160 mAh battery and a 6.67-inch screen with 120 Hz support costs $300.
You can also read: Introducing The Mega-Powerful ASUS ROG Phone 3
Motorola G9 Plus: Conclusion
For my taste, the phone turned out to be too large, but, as practice shows, buyers respect devices with large screens. But the rest of the Motorola G9 Plus I liked: perfectly fine-tuned Android, good performance, a normal main camera and various bonuses like NFC and powerful charging included.
Specifications
OS: Android 10;
Screen: 6.8 inches, IPS, 1080 × 2400;
Processor: Qualcomm Snapdragon 730G;
Memory: 4/128 GB, slot for MicroSD;
Communication: 3.5 mm, Wi-Fi 802.11ac 2.4 and 5 GHz, Bluetooth 5.0, USB Type-C 2.0, FM radio, LTE;
Battery: 5000 mAh, TurboPower 30W fast charging;
Cameras: 64 MP (f / 1.8), macro 2 MP (f / 2.2), depth sensor 2 MP (f / 2.2), ultra wide-angle 8 MP (f / 2.2), front 16 MP (f / 2.2);
Dimensions: 170 x 78 x 9.7 mm;
Weight: 223 g.