It isn't easy to choose among other JBL.
JBL Link Portable Review: Design and kit
We start with the box. She's all so bright:
Inside you will find the speaker itself, a stand for it, as well as cable and waste paper.
There is no power supply unit. The column is positioned as portable, although it can be stationary – the docking station is proof of this.
And this was the main problem for me: the power adapter's maximum power should not exceed 15 W., And I have the following choice: two 5-watt adapters from under the iPhones. But only I use them. One has been sticking out of the socket next to the bed for a year and a half – I charge my iPhone from it. The second is charging my watch. And I was not ready to single out one of them for a column.
In an attempt to find at least something, I ransacked the entire apartment. Found a bunch of exercises. But their power was from 20 to 50 watts. As a result, I need to buy another power supply for the JBL Link Portable docking station to work. But I am so responsible. And other users, I suppose, will not look at the parameters of the power supply.
Here it is worth raising the question of my dissatisfaction with the lack of charging in the kit with future iPhones, but this is a topic for another text.
I have a khaki column. For some reason, the Harman website listed it as "burgundy", but I guess this is a mistake since the burgundy column is named sand. But in any case, this greenish tint has little to do with sand. We also sell four more colours on the market: blue, olive, black and grey.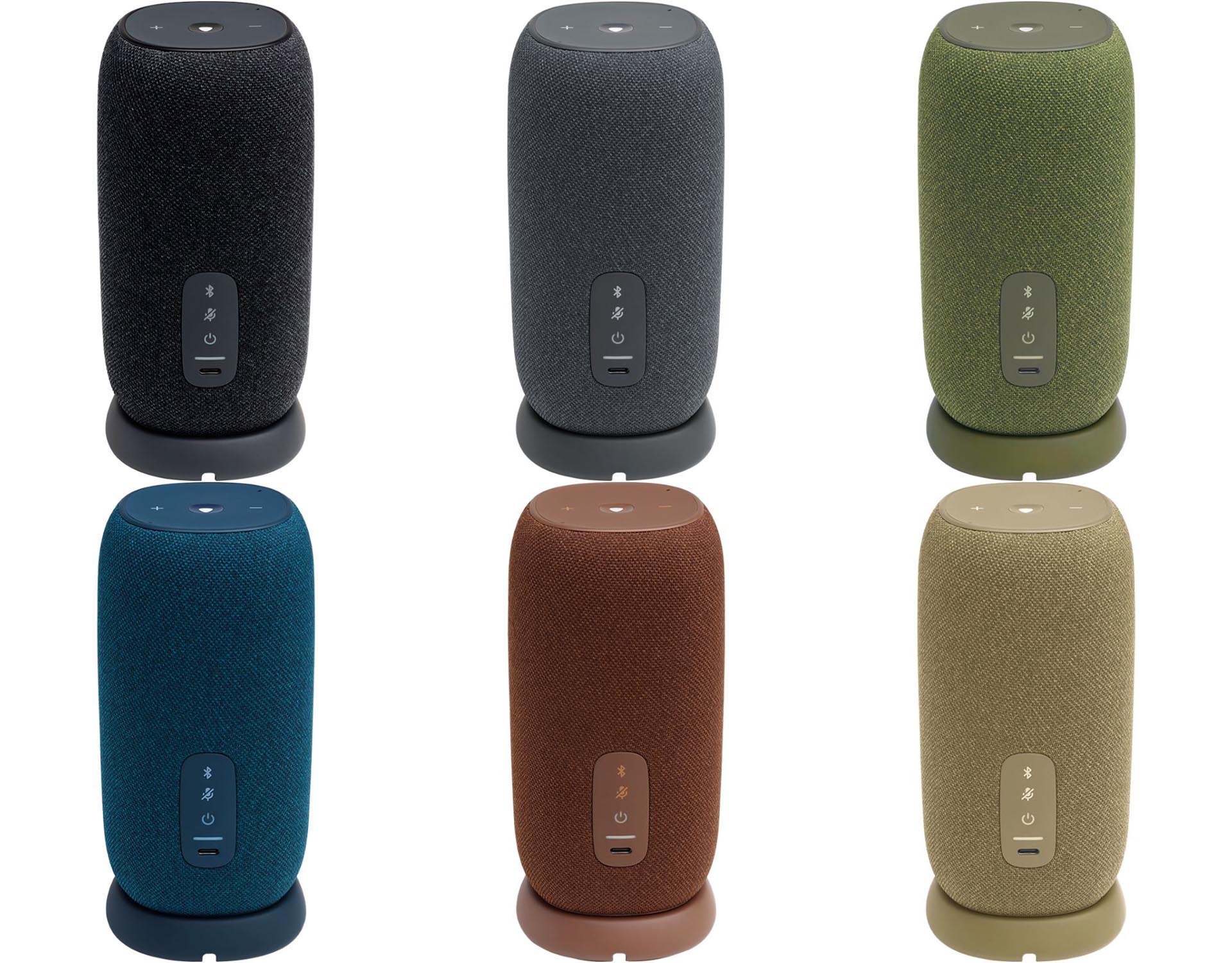 I really like to take the column in hand. Firstly, it has a pleasant weight of 735 grams. Secondly, both Link series speakers have pleasant textile grill protection. It is rough and does not slip out of your hands.
On top of the column, there is a rubberized platform with buttons. One of them calls "Alexa", and the other two are responsible for increasing and decreasing the volume. There are also two microphones.
On the front panel there is the JBL logo, and on the back, there is a button for turning on Bluetooth, mute the microphone, power button, battery level indicator, as well as USB Type-C:
Bottom pad for docking station:
And here's the dock itself:
JBL Link Portable Review: We start to work
You turn on the column and listen to "Alexa" addressing you. She briefly tells what she can and how to connect.
There will be an icon "Devices" on the page that opens, where you can connect a new column.
Actually, the process of connecting the speaker is no different from other products with "Alexa". As well as their use cases.
As I said above, the speaker works in two versions: both portable and connected to a docking station. In portable mode, the battery lasts for 8 hours.
In both cases, the speaker can work both with "Alexa" and via Bluetooth. By the way, it's very nice that "Alexa" is not deactivated when Bluetooth is turned on – you can still use it.
By the way, the column is protected by IPX7 class.
JBL Link Portable Review: Sound
Like any portable speaker of this size, this one isn't really about the bass. The declared frequency range of 65 – 20,000 Hz is really there, but, for my restrained taste, the bass is not enough. And I don't like everything to hum. I love balance.
You can also read: Review: JBL Live 300 TWS Headphone
For example, in a song that I always play for listening, I miss the bass basics, although the notes are audible.
But I really liked the detailing of the rest of the frequencies: nothing merges into some kind of an unformed mess, each of the instruments is clearly audible, and the main moment with the harp blows magic, as it should be.
The retro-soul performed by Monophonics sounds good – as if it was made for this speaker:
Everything here already sounds harmonious and beautiful. And Natasha Artamonova, hearing this song, came running and started dancing. He says he loves this song very much. And I just learned today that these are Monophonics!
Beggin 'perfectly illustrates how things sound organic on the likes of JBL. I will hint with one more song:
In general, retro stuff will sound good on this speaker. Monophonics and Black Pumas played great. But something with deep bass is no longer so good. For example, the cheerful and perky Good Times Roll would have lost if the kick drum was not made so emphasizing on itself during mixing:
The volume margin is huge. It is already 70% excessive. However, power is only 20 watts.
You can also read: JBL TUNE 120 True Wireless Headphones Review
JBL Link Portable Review: Output
The official price of the JBL Link Portable is $162.20. For this money, you get a good-sounding speaker with "Alexa". And here another problem arises intraspecific competition. 
Or the rather large Xtreme 2 for camping has two speakers and twice the power – 40 watts.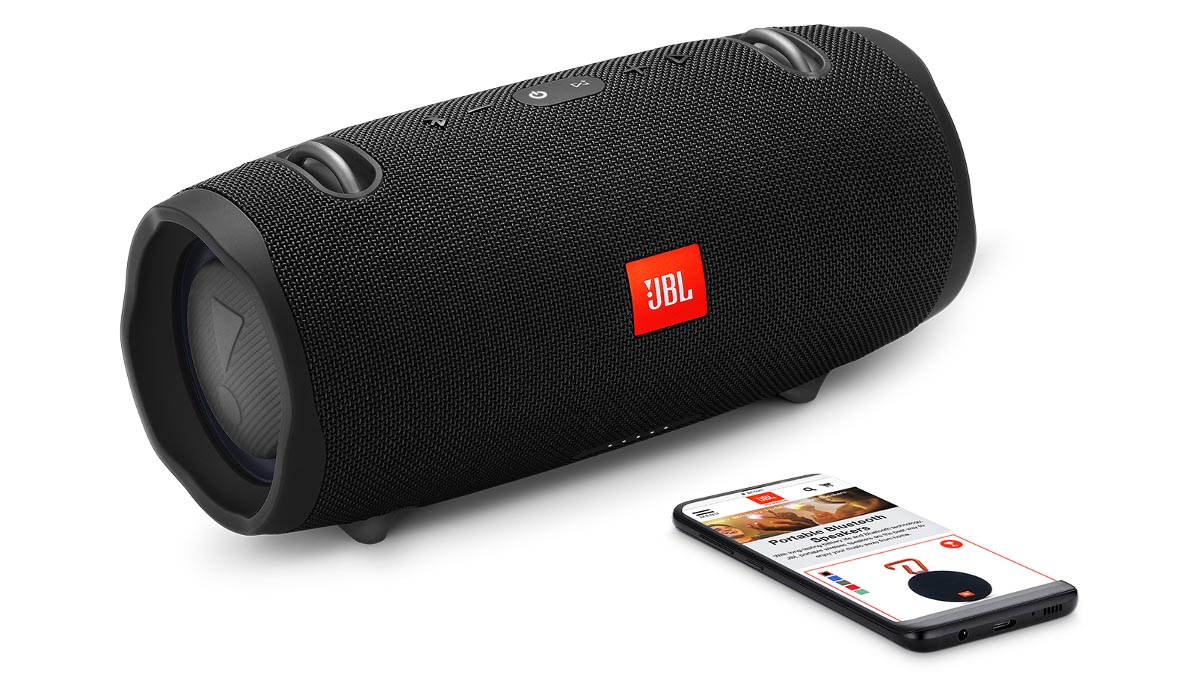 Is Alexa a killer feature? Personally, I would buy the JBL Pulse 4 – it is beautiful and sounds great. But I don't really use the Amazon ecosystem. Although typing this text now, I realized one thing: it is convenient to answer calls without worrying about the need to quickly switch from the speaker to the speaker of the speaker. It is convenient to listen to music by simply saying "Amazon, turn on Thrice" (I switched the start phrase from "Alexa"). And it is convenient to ask in the morning over a cup of coffee what the weather will be in the evening.
You can also read: Bose Portable Home Speaker Review
Of course, all this can be done on a smartphone. But life becomes more comfortable precisely because of these little things.