A gamer's dream.
The ASUS gaming smartphone concept has been stable for generations. It is the most powerful device for gamers with interesting engineering solutions and special gaming attributes. New of the season – ASUS ROG Phone 3.
You can also read: ASUS ROG Strix Scope RX – Gaming Mechanical Keyboard
I managed to spend a little time with the phone in my hands. I want to tell you what is so special about it.
ASUS ROG Phone 3 Review: Design
I have not seen such large and solid smartphones for a long time, about ASUS ROG Phone 3 I can say that it is simply huge. A large, heavy, black and glass-metal device with a spectacular insert on the back, where the radiator grill is located, inspires respect.
Gorilla Glass 6 is on the front, it is on the back, and there is a metal frame on the sides.
There is a light indicator, which is very rare in our time, on the front, and the back, there is a famous company logo with backlight.
You can hold the phone with one hand, but, of course, you can use only two. Otherwise, the probability of accidentally dropping a massive smartphone increases many times over.
To understand how big the ASUS ROG Phone 3 is, here in the photo it is next to the iPhone 11 Pro:
You may ask: why didn't ASUS make a frameless smartphone? There are several reasons for this. The smaller the frame, the greater the likelihood of accidental triggering, and this is unacceptable for a gaming device. The pursuit of a slim body would reduce the size, which means there would not be enough room for a large battery, and stereo speakers require additional space.
ASUS ROG Phone 3 Review: Image quality
The screen is just huge: 6.6 inches diagonal, it is elongated vertically and has a refresh rate of 144 Hz with a response of 1 ms, if necessary, it can be lowered to 120 or 90 Hz. The refresh rate of the sensor layer is 270 Hz with a response of 25 ms – you will not find such indicators in any other smartphone.
You can also read: Which Monitor to Choose for Gaming: Tips and Ratings 2020
Naturally, this is an AMOLED with an excellent margin of brightness: 650 nits is declared. Interestingly, ASUS did not chase the maximum resolution; the smartphone received a Full HD + display.
In the smartphone settings, I did not find an option for adjusting the PWM, and perhaps in the evenings, some users will get tired of the eyes.
ASUS ROG Phone 3 Review: Megapower
Immediately I launch AnTuTu – and I feel like a king: the phone is at the top in terms of performance. Like its predecessor, the smartphone comes with an overlay with a cooler, although by itself it does not really heat up even in games with maximum graphics. I did not play for long, but I cut the game in PUBG at maximum speed, very nice.
A unique feature of the smartphone – touchpads on erecognisesnize different gest and determinesmine the pressure.

Performance at the level: ROG Phone 3 received the most powerful Qualcomm Snapdragon 865 Plus processor at the time of the announcement, an overclocked graphics accelerator Adreno 650, high-speed UFS 3.1 soldering and 16 GB of LPDDR5 RAM. The memory has become faster, and at the same time, power consumption has decreased.
For the gaming smartphone, a new and improved cooling scheme was developed with a copper radiator six times more than in the ASUS ROG Phone 2 for heat dissipation. The heat is evenly distributed over the screen through the graphite film, and there is also a special hole on the back of the case.
This complex design is complemented by a separate cooler accessory attached to the phone if necessary.
ASUS ROG Phone 3 Review: Sound
Sonorous speakers distinguish the phone. I would even call them the loudest – I have never heard such a powerful sound in smartphones. Very loud, very clean and rich. There is no jack with a 3.5 mm output, but a USB Type-C adapter is included if you really want to connect your favourite wired headphones.
ASUS ROG Phone 3 Review: Autonomy
According to the developers, they would like to shove an even more capacious battery into the phone, but they would have to increase the device's already impressive size. Therefore, I had to "limit" the volume of 6000 mAh – it's still a very decent figure. It feels like an hour of play consumes about 20% of the battery, but that's with 144Hz on.
The smartphone comes with 30 W charging, due to powerful charging, the process goes briskly, up to 100% ASUS charges in 2.5 hours, and up to 50% in general in 30 minutes.
ASUS ROG Phone 3 Review: Communications
The developers of the phone have prudently added a second USB Type-C port to the game wonder. It is located on the left side and is covered with a plug. The connector is necessary in cases where gaming accessories are connected to the smartphone and when you need to charge the phone without interrupting the game. The idea is great: usually, the wire is connected from the side, but here from below if you imagine holding a smartphone in your hands.
ASUS ROG Phone 3 Review: Camera
The phone was accidentally formatted before I copied the photos from it to say anything about the photo part. Considering that the top-end Sony IMX686 sensor is used, the ASUS ROG Phone 3 should shoot perfectly.
Are gaming smartphones weird?
You can play on any phone, but not every smartphone is called a gaming one. Usually, the most powerful devices are referred to as gaming devices, but even against their background, ASUS ROG Phone 3 will not get lost. It was created for those who spend hours playing on the phone, and not while away for small parties of 5-10 minutes. An hour and a half in PUBG every day – this is how the player's image looks like.
Brand accessories have been developed especially for such gamers. I have already mentioned additional cooling – let me remind you once again that you can connect an external AeroActive Cooler 3 to your smartphone via the USB Type-C connector. Moreover, the cooler received a built-in USB Type-C, a 3.5 mm jack and a stand: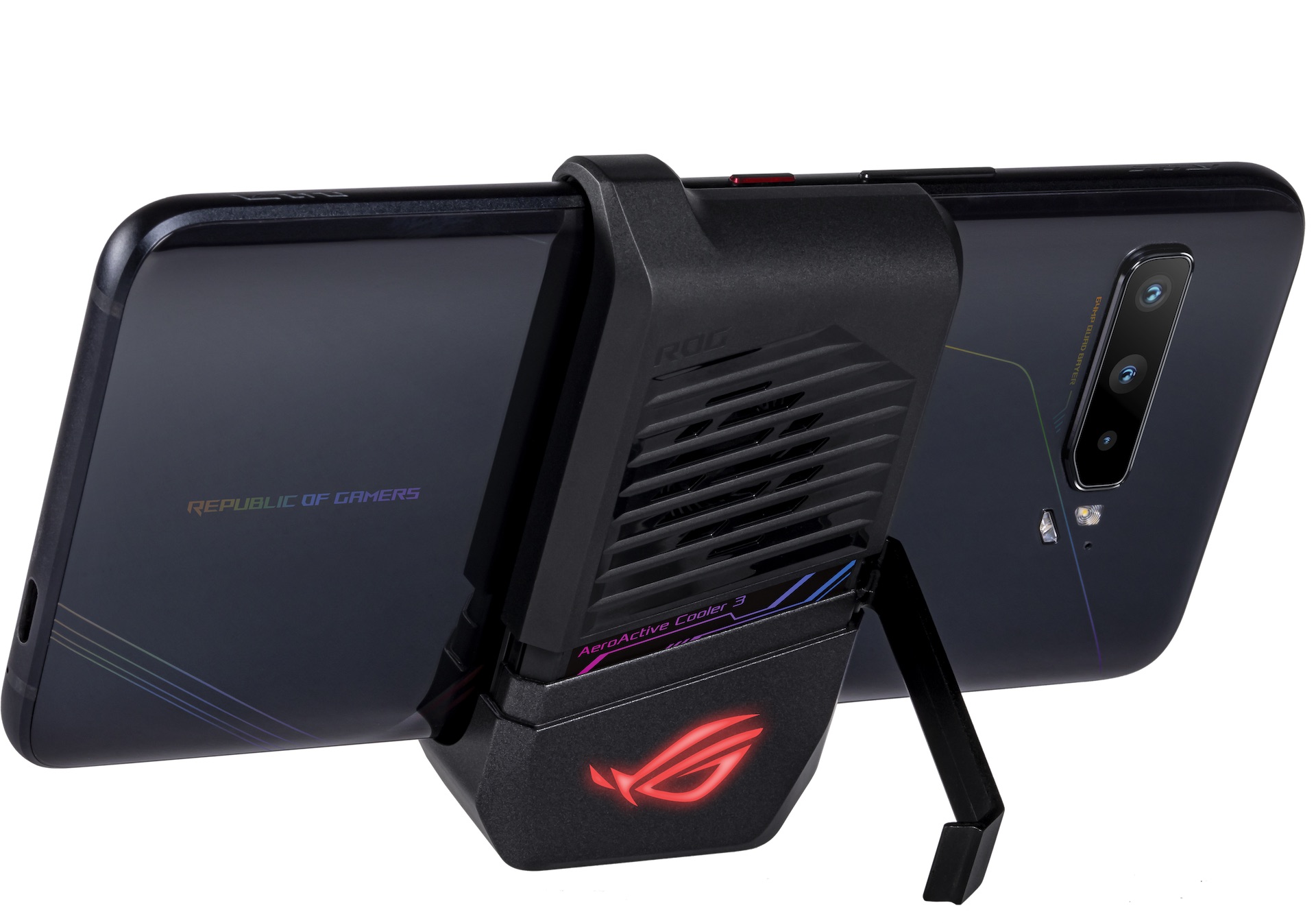 During games, you can use physical keys, then connect the ROG Kunai 3 gamepad: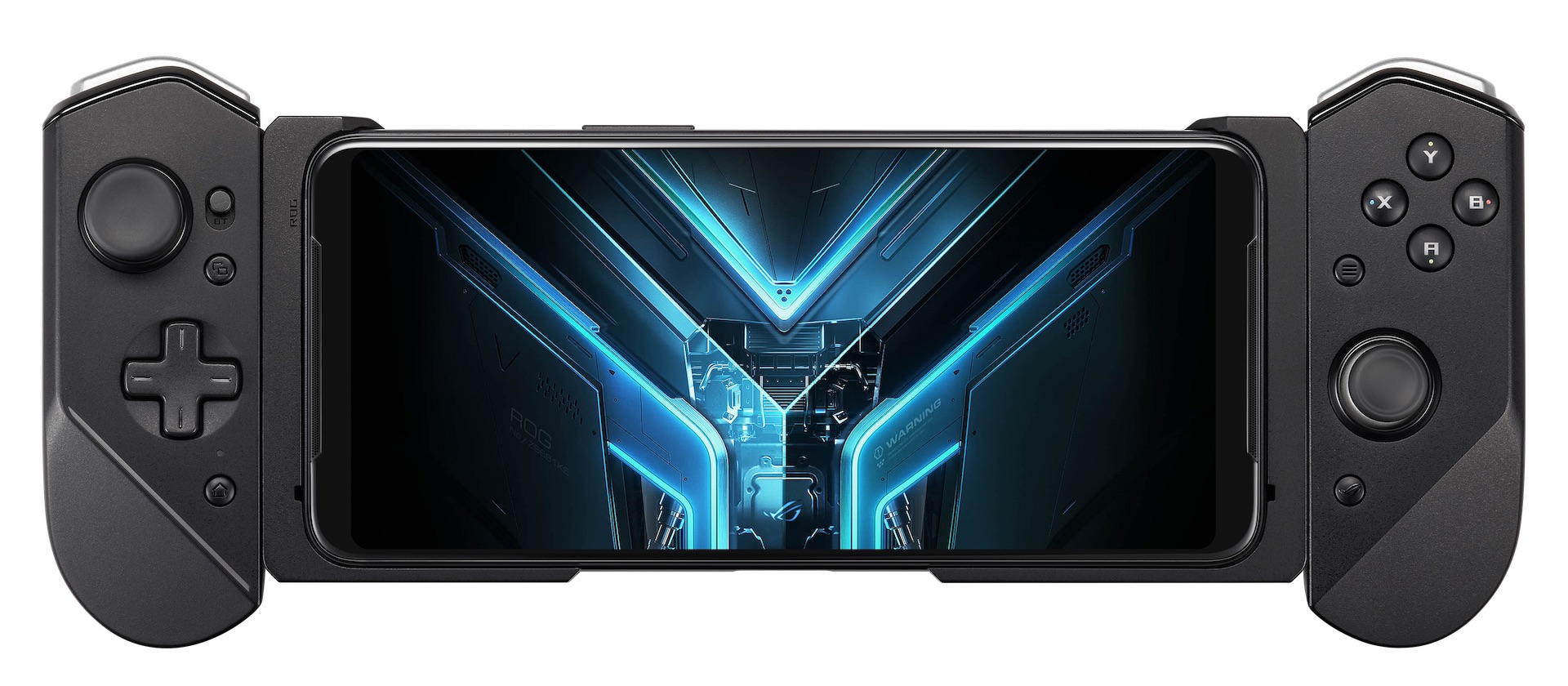 Designed ROG Lighting Armor Backlit Case: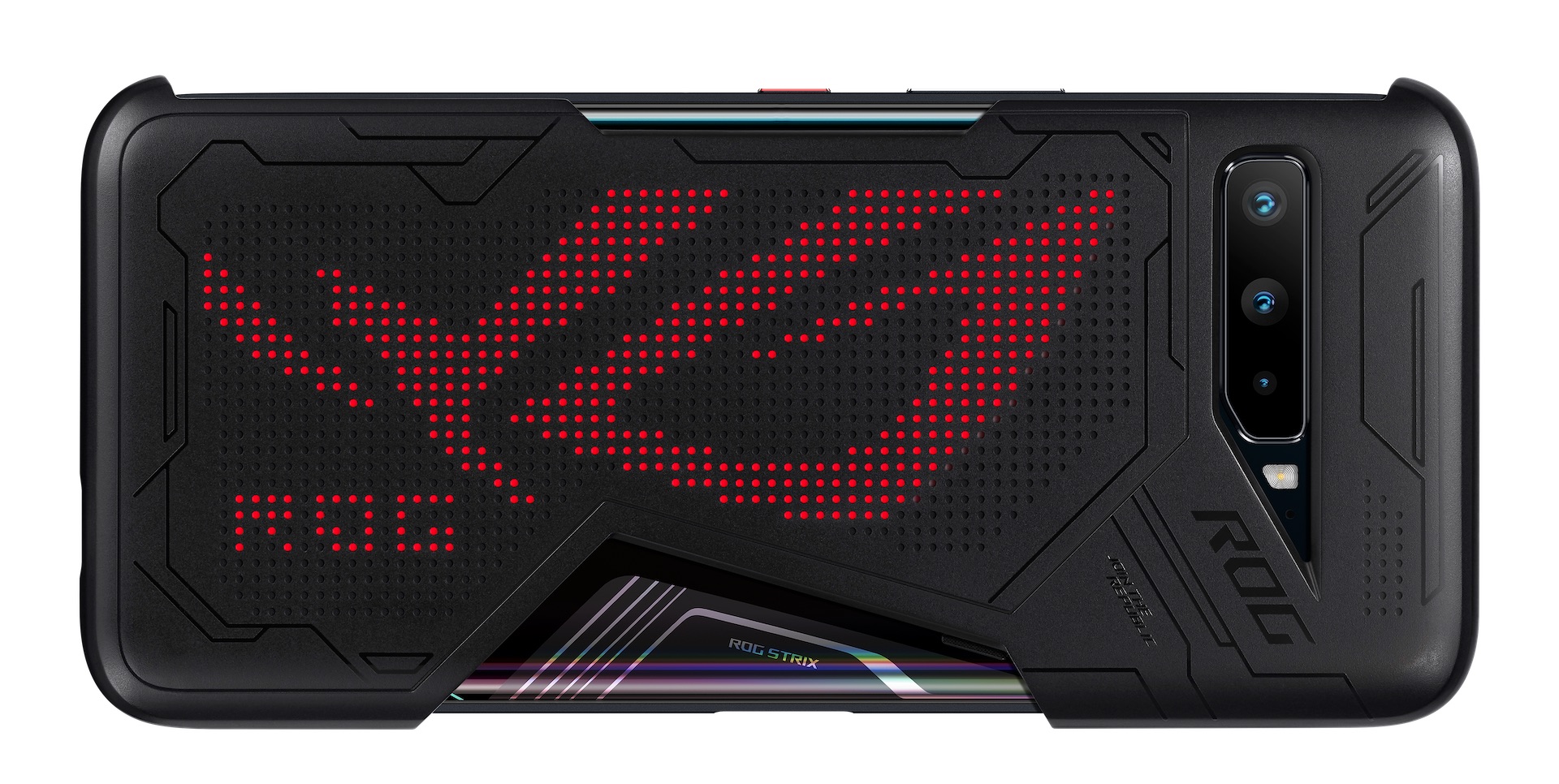 The updated version of the TwinView Dock 3 turns your smartphone into a portable gaming console with two screens (with a refresh rate of 144 Hz), while the Mobile Desktop Dock 3 connects a desktop keyboard, mouse and external monitor: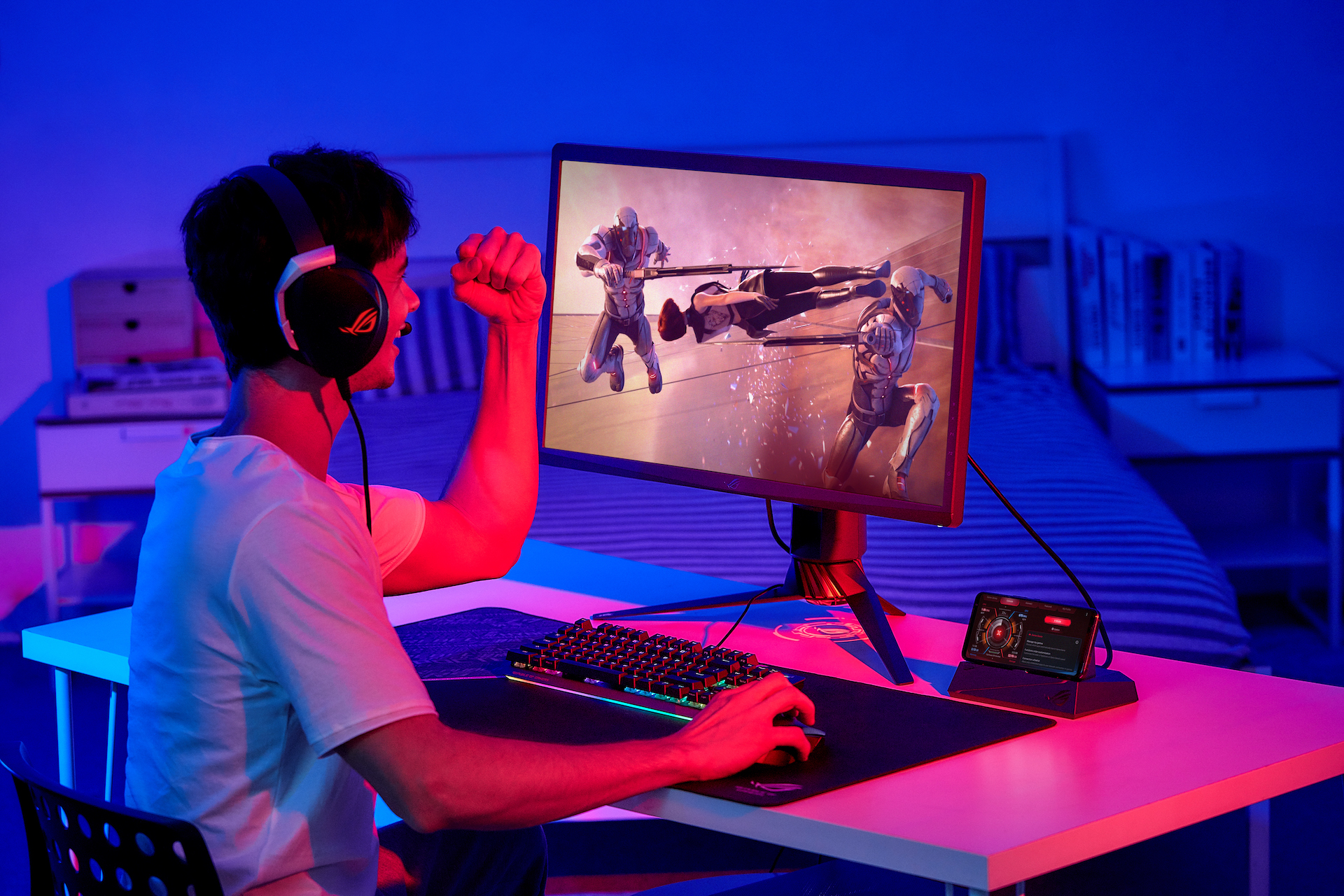 ASUS ROG Phone 3 gaming smartphone is an extremely unusual thing. Top-quality hardware, a gorgeous screen, and a bunch of specialized accessories as a bonus. Wow-a smartphone for true connoisseurs of the most sophisticated phones.
ASUS ROG Phone 3 Review: Specifications
Processor: Qualcomm Snapdragon 865 Plus 5G, 3.1 GHz;
Graphics: Adreno 650;
RAM: up to 16 GB LPDDR5;
Built-in memory: up to 512 GB UFS 3.1;
OS: Android 10, ROG UI;
Display: 6.59 inches, 19.5: 9, 2340 x 1080, 144 Hz, 1 ms, AMOLED, 10-bit colour depth, HDR support, 650 nits brightness, Always On;
Battery: 6000mAh;
Wireless: Bluetooth 5.1, WiFi 6, NFC;
Front camera: 24 MP;
Main camera: 64 MP (Sony IMX686) + 13 MP (125˚ ultra wide-angle lens) + 5 MP (macro);
Sound: Dirac HD Sound stereo speakers;
Connectors: two USB Type-C, support for USB 3.1 Gen 2 / DisplayPort 1.4 (4K UHD) / fast charging (PD 3.0, 30W);
Dimensions: 171 x 78 x 9.85mm;
Weight: 240 g.